History and The Place of ICI within Turkey Economy
History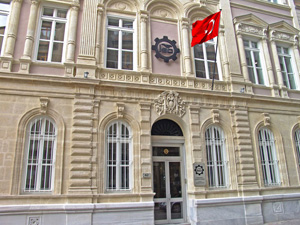 Istanbul, with a history that goes back to 3000 B.C., has been the capital city of the Roman, Byzantine, and Ottoman Empires. Istanbul has served as a religious, cultural, economic, and commercial center throughout history and at the same time, it is here that the foundations of industry were established. Istanbul progressed into large-scale production in the 1830's. In the first years of the Republic, industrialization was a State-executed mission. Immediately after World War II, Istanbul began to host a significant extent of private sector investments in the manufactured goods industry.
From the 1950's onwards, a new generation of labor-intensive, small-scale manufacturing investments emerged, along with some large private investment enterprises. The growth of industry thus started in tiny workshops and despite the lack of resources and materials in that period, these enterprises made significant advances into the future. After 1950, the manufacturing industry in Istanbul went through a remarkably rapid development process with the onset of infrastructural investments that were needed especially in the areas of transportation and energy, and the city started to benefit significantly from loans, incentives, and public sector investments. One of the major actors in the progress during that period was the Istanbul Chamber of Industry, which was founded in 1952. Established upon the written request of close to 750 industrialists, the Istanbul Chamber of Industry kicked off its operations with its first Assembly meeting on May 30, 1952. Kazım Arın was appointed President for the first Assembly of the Chamber while Sırrı Enver Batur assumed the position of Vice President. The first President of the Board of Directors was Hüsnü Yaman, who served along with Vice Presidents Cahit Evrenos and Hasan Derman. Initially located in the "IV. Vakıf Han" building, the Istanbul Chamber of Industry accomplished major growth in a short period of time and transferred its headquarters to the second floor of Kılavuz Han in Sirkeci. With the surge in the number of its members, Kılavuz Han also fell short of catering to the scope of business in ICI. Kruger Han, where the Chamber is currently located today, was procured in 1958, and the Chamber moved into its new offices in 1963. By the end of 1963, the Istanbul Chamber of Industry had reached 2,365 members. Today, with a roster of over 17,000 members, the organization is Turkey's oldest and largest industrial chamber.
Place in the Turkish Economy
Istanbul Chamber of Industry, whose main pillar of strength is its members' contribution to national economy since its inception, is the largest chamber of industry in Turkey and one of the strongest representatives of the Turkish industry.
The value added by ICI members corresponds to approximately 36 percent of that of the Turkish industrial sector.
ICI members also deliver around 34 percent of the Turkish industrial sector's manufacturing.
ICI member companies continue to employ over 15 percent of the Turkish industrial sector workers (registered and unregistered employment).
By their employment size, 78.7 percent of ICI members are small-sized (fewer than 50 employees), 18.5 are medium-sized (50 to 249 employees), and 2.8 percent are large (250 or more employees) enterprises. 
ICI members' operations concentrated on the manufacturing of clothing, leather and leather goods at 22.8 percent, followed by manufacturing of machinery, parts and metal goods at 15.6 percent, manufacturing of chemical, plastic and rubber products at 13 percent, and textile manufacturing at 11 percent. 
As at 2015, Turkey's Top 500 Industrial Enterprises comprise 182 ICI members. There are 177 ICI member enterprises in the Second Top 500 Industrial Enterprises list. Thus, in 2015, the 1000 Top Industrial Enterprises featured 359 ICI members, 
In 2015, total exports of these 359 members  accounted for 21.3 percent of Turkey's total exports.