Consul General of Hungary Hendrich Visits ICI Chairman Bahçıvan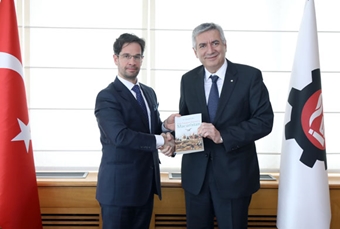 Balazs Hendrich, Hungary's Consul General in Istanbul, has paid a courtesy visit today to Erdal Bahçıvan, Chairman of the Istanbul Chamber of Industry (ICI).
The visit, which was attended by Zsofia Kakas, Trade Attaché, and Galip Yılmaz, General Manager of ALX Hungary, took place at ICI's head office in Tepebaşı, Beyoğlu. The meeting discussed the economic relation between Turkish businesses and Hungary, exploring avenues of bilateral growth. The meeting also noted the current volume of trade and commerce between the two countries, approximately $3 billion as of 2016, below the real potential, and remarked upon the need to increase this figure to $5 billion at the first stage.
Erdal Bahçıvan, ICI Chairman, stressed that long-term plans and activities that would continue throughout the year were as important as short-term plans if the two countries were to further their economic relations.
Hendrich, Hungary's Consul General in Istanbul, noted Turkey's position as an important and strategic partner for Hungary, and stated the economic relations between the countries would significantly benefit from visits by businesspeople during the year.