ICI Announces the Turkey and Istanbul PMI Manufacturing Survey Results for August 2016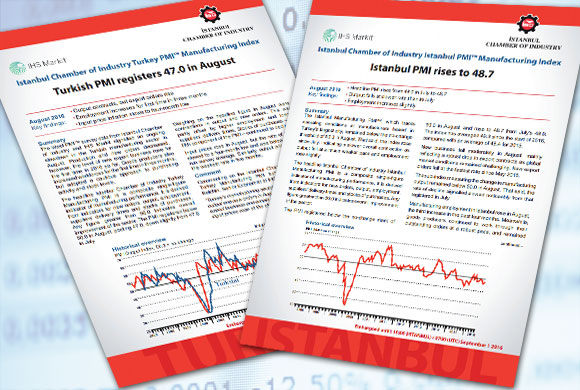 Istanbul Chamber of Industry announced the Turkey and Istanbul PMI (Purchasing Managers' Index) Manufacturing survey results for August 2016. The survey is recognized as fastest and the most reliable reference for the manufacturing industry's performance, which is a key indicator for economic growth.
The survey reports Istanbul Chamber of Industry Turkey PMI Manufacturing index as 47,0 in August. While there was a decline in production and new orders, the rising employment in manufacturing as well as the improvement in suppliers' delivery time helped, to some extent, alleviate this negative impact . Manufacturers increased employment in August to a three-month high. New export orders increased for the first time in 2016.  Input stocks, the fifth sub-index of the PMI, continued to decline. The input prices inflation declined to the lowest level in the last four months and fell below the long-term average.
Trevor Balchin, Senior Economist at Markit, commented on Istanbul Chamber of Industry Turkey PMI Manufacturing survey: "Turkish manufacturing industry suffered a shrinkage in production and new orders, in August. However, the survey indicated much more positive developments as the rise in new exports orders and employment rates; and the input prices inflation declining to a four-month low."
Istanbul PMI Manufacturing index recorded higher in August than July
The Istanbul Chamber of Industry PMI Manufacturing index stood below the threshold of 50.0 in August, yet with an increase from 48.0 in July to 48.7 in August.  The ongoing recession in production geared down in comparison to July while there was a moderate recovery in employment for the third time in the last four months. The new orders exhibited a modest decline. Suppliers' delivery time indicated an improvement, while a cautious approach was maintained in purchasing and stock levels. Input prices increased.