ICI To Organize Sri Lanka Days: A New Potential Market For Turkish Industrialists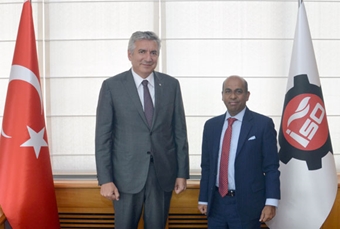 P.M. Amza, the Democratic Socialist Republic of Sri Lanka's Ambassador to Ankara, paid a visit to Erdal Bahçıvan, the Board Chairman of Istanbul Chamber of Industry. Mehmet Emin Berk, Trade Coordinator at Sri Lanka's Ankara Embassy and ICI Deputy Secretary General Haktan Akın also attended the meeting held at ICI's head office.
ICI Chairman Erdal Bahçıvan thanked Ambassador Amza for his contribution to the bilateral economic relations between the two countries. Bahçıvan, pointed out to the low level economic relations between Turkey and Sri Lanka highlighting the limited awareness on each other as a major reason for this.
Bahçıvan noted that it is a top priority for ICI to open new horizons and markets for its members, stressing the organization's willingness to play its part in fulfilling the economic potential between the two countries. Bahçıvan, told that ICI holds country days to promote new and potential markets to its members, adding that Sri Lanka has a lot to offer to Turkish industrialists in this sense.
Ambassador P.M. Amza, on the other hand, said that the purpose of his visit was to discuss possible partnership areas with ICI to improve trade and economic relations between the two countries. Amza noted that the trade relations between Turkey and Sri Lanka dates back to many years ago reminding the Ottoman Consul General in charge of trade assigned to Sri Lanka in 1884. The Ambassador further stressed the need to revive these deep rooted ties.
The Ambassador drew attention to textiles and apparels as the strongest sectors of Sri Lanka even today, adding that the country has a free trade agreement with Pakistan and is about to sign am FTA with China, Southern Asia and Singapore, which may create new opportunities and advantages for the Turkish companies. The Ambassador told that the first ministry-level visit by Sri Lanka to Turkey, after a twenty-six-year break, will be made in November. Such a visit will pose a great opportunity to improve and diversify the bilateral economic relations, he added.
Parties agreed to organize a Sri Lanka Day in the first months of 2017 to introduce Sri Lanka to ICI members.