ICI's Report on Paper, Paper Products and Printing Industry has been published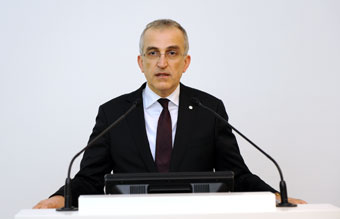 Istanbul Chamber of Industry's (ICI) 'Report on Paper, Paper Products and Printing Industry', prepared with the contributions of the sectoral committees of the paper industry and non-governmental institutions, has been published. According to the report, over the years 2006 and 2013, the paper and paper products' industrial production has increased by 45,9%, surpassing the average of the manufacturing industry. In the same period, the industry's export numbers has tripled, reaching 2 billion USD and the biggest share in export belonged to cleaning and toilet papers, and baby diapers product groups with 1.2 billion USD. The industry's import number arrived at 3.2 billion US dollars, with the biggest share, corresponding to 2 billion USD, received by paper and cardboards.
İrfan Özhamaratlı: "To stand out, you have to possess certain qualities."
The ICI Report on Paper, Paper Products and Printing Industry has been announced in a meeting attended by chambers' sectoral committees and sector representatives. İrfan Özhamaratlı, the ICI Deputy Chairman of the Board of Directors, said: "As ICI, we prepare industry specific reports on various industries, in this global competition climate. Our aim is to increase the industries' development capacity and to improve the corporate structures within these industries. Companies must possess certain qualities to stand out in competition. Some of these qualities are added value generation, speed, flexibility and customer demand. Today, thanks to globalization, it's easy to obtain a certain product. For this reason, we have to prepare short, medium and long term plans and projects and develop policies. It's obvious that there's a growing need to carry out R&D and innovation activities focusing on new production technologies. We need to shift from cost-based production to innovation-based production. Paper and printing industries are both dependent on other countries. Turkey's annual foreign trade deficit is 1.2 billion USD. The fact that the Resource Utilization and Support Fund has been removed from imports, the paper industry will be able take a breath to a certain extent."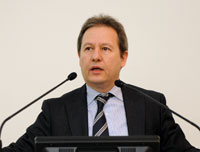 The ICI Consultant Dr. Can Fuat Gürlesel, while presenting the report to the audience, underlined that the paper industry's growth surpassed that of the manufacturing industry and that the industry had an import substitution quality. Gürlesel also explained that for the industry to develop further, we have to talk more about industrial forestry and work harder to improve the concepts of environment and health-friendly products. The ICI Consultant, also briefing the audience about the report section on the printing industry, pinpointed the importance of increasing domestic input capabilities and said that a production capacity inventory that will control the foreign investments towards the industry should be prepared.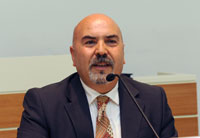 Following the announcement of the report, a panel on the future of paper industry was organized and moderated by the ICI Consultant Dr. Can Fuat Gürlesel. Ramazan Güven, 16th Group of ICI Printing, Publishing, Paper and Paper Packaging Industry Sectoral Committee Chairman, stated that printing is a highly strategic production area and is one of the most fundamental component for people to advance. Güven, explaining why printing should be prioritized, made the following remarks: "Printing is a production area that carries a strategic value. It's a fundamental sector that helps education, people and a country to develop. It's an industry that can rapidly change and adapt quickly to technology and act according to people's needs. Nations without a past are like people without memories. If you don't possess written documents, then you don't have a history. If you don't have any documents, you're ignorant, and if you're ignorant you're incapable and if you're incapable you're a failure as a society."
 "There is unemployment but there's also lack of qualified personnel."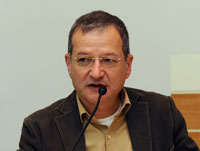 M. Sermet Tolan, Printing Industry Education Foundation Board Chairman, touching upon the challenges of commercial printing, said: "We do not have the reflex to act corporate or industrial. Profit margin of the industry is too low. There's an incredible imbalance between supply and demand: too many producers, too few buyers. Producers don't have any competitive edge other than price because we are weak when it comes to innovation and novelties. We need to stop running after machines and start investing in qualified people. We need to develop high added value products compatible with industrial design. Otherwise, current prices, production and sales numbers will shrink the capabilities in commercial printing." 
Mesut Koyuncu, Board Chairman of the Corrugated Board Manufacturers Association, talked about the successful growth period the industry enjoyed recently. Koyuncu reminded that quality is gaining importance in the industry and that apart from its primary function of carrying; now the corrugated cardboards also address esthetetics. Mesut Koyuncu further commented that despite the unemployment in the country, finding qualified personnel still remained as a challenge. Koyuncu, also stated that prolonged payment terms in Turkey reduces operational capital under zero, giving the following example: "A company owner has three balls, two of them are plastic and one of them is glass. If the plastic balls fall down, it doesn't matter because they won't break and the game goes on. One of the plastic balls represents the company's profitability. If the company doesn't make any profits for two years, it won't go bankrupt. The second plastic ball is its asset size. If the asset size is relatively small, the company won't go bankrupt. But if the glass ball falls down, the game is over. Glass ball represents the cash balance. The prolonged payment terms damages the cash balance of companies."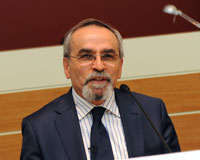 Erol Gül, General Secretary of Cardboard Packaging Industrialists Association, described how industrial innovation happens much faster compared to the past with the following words: "In the past, there were newspaper papers, clay pots and cheese packages made of kid leather. Nowadays, mostly plastic, and also cardboard packages are used. The European cardboard packaging industry that witnessed a downward trend since the 2009 financial crisis has felt a recovery since 2013, reversing the said trend. In this period, coated paperboard grew by an average of 3%, the fastest growing cardboard types compared to previous years were triplex cardboard and Bristol cardboard, growing 11% and 6%, respectively. Cardboard packaging is predominantly preferred for food products. The second place unfortunately belongs to the cigarette industry. The third place is captured by the health industry. The spreading e-commerce shopping will also play a major role in cardboard packaging usage."
Turkey globally ranks the 9th in paper consumption 
Based on the report, Turkey gets 1,37% share from the global paper production and 1% share from global exports, however, Turkey ranks the 9th in consumption with 5.7 million tons. Turkey's largest export markets are the EU, Middle East as well as North and Central Asia, and the highest sales were realized with descending order to Iraq, Iran and the UK.
Germany is the largest global exporter vis-a-vis paper and paper products with 24.2 billion USD, while the number one country in terms of import is the USA with 17.3 billion USD. The lead country in both production and consumption is China.
The growing domestic demand decreased export
Turkey produced 3 million 92 thousand tons of paper in 2012, and its consumption figure reached 5.7 million tons, seeing a rapid expansion. The biggest share in consumption belonged to corrugated cardboard with 40%. The report specified that net foreign currency deficit of paper and paper products stood at 1.2 billion USD in 2012, meaning that exports remained low despite the potential and capacity, being affected by the fast growing domestic demand. The report also indicated that this situation limited production and export, however, it contributed positively to net foreign currency revenues by stopping import.
3 billion TL added value was generated
Paper and paper products industry, a capital, technology and energy-intense industry, are most competitive in house and cleaning papers, paper-cardboard packaging products and corrugated cardboard sub-sectors. On another front, paper industry's sub-sector -from the point of businesses, production value and added value- that has the highest share is corrugated paper and cardboard products with an average of 50%.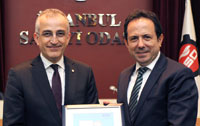 The report shares the 2012 numbers for the paper and paper products industry: number of businesses 2.201, total employment 49 thousand 581 employees, production value 15.4 billion TL, added value 3 billion TL and investments 1.3 billion TL. In 2013, R&D spending was 5.1 million TL, R&D employs 57 people, number of patents stood at 15, brand registry 3 thousand 616, and the number of registered industrial design was 120. On the other hand, per capita paper consumption the very same year, which is regarded as an indicator of a country's development level and the industry's growth potential, was 73.8 kg.
According to the report, that also includes the number of printed books in Turkey, the number of labeled books published in 2008 was 163 million, whereas this number went up to 330 million in 2012. Almost half of all published books in Turkey, the exact number being 536 million, was course books, distributed free-of-charge.
Dependence to other countries in cellulose makes it harder to compete
As stated in the report, the industry's strengths are wastepaper recycling capacity, paper-cardboard packaging, strong production capacity in corrugated cardboard and cleaning papers and advanced technology utilization. Furthermore, the weaknesses were reported as dependency to foreign countries in cellulose, which is the main raw material, not being able to preserve forests properly and lack of industrial forestry. The report also pointed out that the price of wood, suitable for paper making ranges between 70-80 dollar/ton compared to 20-30 dollar/ton in the world. Moreover, the dependency to foreign countries in cellulose and chemicals increased the costs significantly due to the currency exchange rates.
13 strategic objectives in paper identified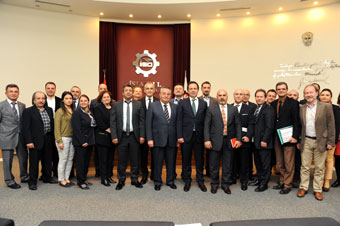 The report stipulates 13 strategic objectives for the development of paper and paper products industry:
Establishing and managing industrial forests,
Cellulose production being accepted as a strategic product,
Improving the system of waste paper collection and recycling,
Decreasing the cost of paper raw materials provided domestically,
Removing or decreasing the rate of the Resource Utilization and Support Fund implemented on forward raw material and intermediary good imports,
Reducing energy costs,
Developing technology,
Diversifying markets and products to increase export,
Strengthening the concept of healthy and environment friendly product to augment domestic consumption,
Improving investment incentives and funding capabilities,
Educating qualified human resources and labor force,
Developing standards that will in turn increase paper product usage and quality,
Ensuring effective import and domestic market monitoring. 
Strategies identified for the printing industry:
Increasing domestic input capabilities
Increasing effectiveness in foreign input supply
Controlling investment through the preparation of the production capacity inventory and new entries
Setting up collaboration and partnerships with European producers, in every possible domain
Reducing energy costs
Improving labor force regulation
Producing high added value products
Establishing test, laboratory and certification infrastructure
Concentrating on and increasing export
Improving investment incentives
Educating qualified human resources and labor force and attracting them to the industry
Preventing illegal production
Founding a healthy competition climate