"ICI-Uzbekistan Country Day" Witnesses the Discussion of Business Opportunities Between Two Countries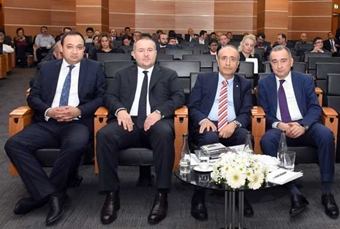 Istanbul Chamber of Industry (ICI) organized "Uzbekistan Country Day: Opportunities for Turkey" meeting to discuss the economical cooperation opportunities between two countries. To this event hosted by ICI Member of Board of Directors Bekir Yelken in Odakule and honored by ICI Board Member Serdar Urfalılar, ICI Council Members, various industrialists and business people attended to discuss the investment and trade cooperation opportunities.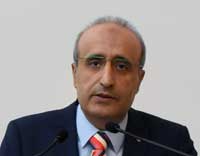 ICI Member of Board of Directors Bekir Yelken, who made the opening speech, reminded that Turkey is the first country to recognize the independence of Uzbekistan on 16 December 1991, two countries established diplomatic relations on 4 March 1992 and the first consulate general in Tashkent was founded by Turkey. Yelken stated that a joint decision was made to improve the relations between two countries following the Samarkand visit of Turkish President Recep Tayyip Erdoğan on 17-18 November 2016 and a total of 26 agreements were signed between two countries during the Turkey visit of Mirziyoyev on 25-27 October 2017 within the framework of the relations improved recently.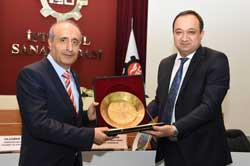 ICI Member of Board of Directors Yelken informed that the foreign trade volume that was 168.4 million dollars in the beginning of 2000s exceeded 1.2 billion dollars and the trade relations between two countries were regularly improved within the last decade. Saying that the export to Uzbekistan that Turkey continuously had trade deficit since 2003 increased from 176 million dollars, tripled and reached up to 533.4 million dollars in the last decade, Yelken recorded that the import that was 415.8 million dollars reached 709.3 million dollars within the same period.

Yelken added that Turkey is ranked 4th among the countries that Uzbekistan exports to and 5th among the countries that Uzbekistan imports from. Yelken said that there are up to 520 Turkish companies providing servicing in various sectors and mainly textile industry and construction business in Uzbekistan, and 235 Uzbek companies providing service in Turkey as of December 2015. Yelken added that Turkey is one of the leading destinations preferred by Uzbek tourists and moreover, 20 percent increase had been achieved in the number of Uzbek citizens visiting Turkey within the last three years and 143 thousand visitors came from Uzbekistan to Turkey in 2015.

Mentioning the increasing and improving commercial relations of Turkey with its brother Uzbekistan that its has deep historical and cultural ties with as a great joy, Yelken wished for this beneficial unity between these two countries to exponentially increase.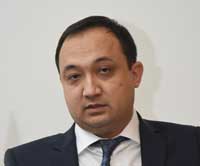 Uzbekistan Trade and Investment Consultant Ulugbek Azamov, who supported and acted together with ICI for the organization of this meeting, also made a speech during the meeting. Azamov read the message of Uzbekistan Ankara Consul General Alisher Agzamhodjaev before starting to share his own ideas, and he made a detailed presentation about the investment and cooperation opportunities in Uzbekistan. Azamov stated that the country has a young population of 32 million. Azamov reminded that Uzbek President Mirziyoyev began to put into practice the urgent reforms for the period of 2017-2021, and to apply policies aiming to liberalize economy, support foreign investments and liberalize foreign currency regulations. Azamov also shared the information that the petroleum and natural gas supply 16 percent of the GDP, and these industries provide employment to 120 thousand individuals.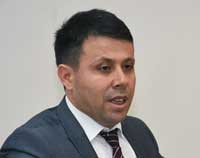 Turkish Ministry of Economy, Uzbek-Tashkent Former Trade Consultant Ahmet Küçükaslan also took the stage to share information about Uzbekistan. Stating that he had worked in the region for four years, Küçükaslan named the most important logistics issue of the country as its lack of sea shore since this causes significant challenges regarding transportation. Saying that the country is also an observer member of World Trade Organization and makes great effort for full membership, Küçükaslan stated that Uzbekistan exports its goods mostly to Switzerland, China, Russia, Turkey, Kazakhstan and imports goods mostly from China, Russia, South Korea, Kazakhstan and Turkey. Küçükaslan told that almost half of the Turkish companies operating in Uzbekistan is in the textile industry, and added that the transfer of all shares of UT Bank, a joint establishment of Turkey and Uzbekistan, to Ziraat Bank is a huge step.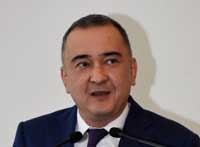 Later, Akfa Companies Group Chairman Cihangir Artikkhodjaev called Turkish industrialists and business people to invest in Uzbekistan. Artikkhodjaev said that they had been dreaming of the current policies for years as business people and that Turkey should rush in investing in this country since it may be late otherwise. Artikkhodjaev stated that he has been doing business with Turkey for the past 20 years, and added that there are numerous opportunities for business people of both countries.
Following these speeches, ICI Deputy Secretary General Mehmet Dolgan moderated a panel titled "Experiences of Turkish Companies in Uzbek Market". In this panel, Demir Group Co-Chairman Adnan Demir, Nobel Pharmaceuticals Board Member Numan Balki and DAL Holding Executive Board Member / CFO Demircan Köse shared their Uzbekistan experiences with the audience and answered their questions.