"Iran Desk at ICI" Idea Comes out of Meeting With Minister Mahmoud Vaezi
As bilateral meetings continue between Istanbul Chamber of Industry (ICI) and Tehran Chamber of Commerce, Industries, Mines and Agriculture, ICI Chairman of the Board of Directors Erdal Bahçıvan paid a visit to Iranian Minister of Communication and Information Technology Mahmoud Vaezi at his office on April 30. ICI President of Assembly Zeynep Bodur Okyay and Turkish Ambassador to Tehran, Rıza Hakan Tekin, also attended the meeting, which was particularly significant in marking the first time a professional organization was hosted on a ministerial level in Iran. One of the critical highlights of the meeting was that ICI Chairman Erdal Bahçıvan announced their decision to establish an Iran Desk within the ICI in the presence of Minister Mahmoud Vaezi.
During the visit, Minister Vaezi stated that Istanbul and Turkey were important for them. Vaezi told that the past two months' developments marked a new beginning and the meetings held in Turkey with both the President and Prime Minister during the Joint Economic Commission meeting were highly productive. Vaezi mentioned that Presidents of both countries assigned him and his Turkish counterpart, Minister of Development Cevdet Yılmaz, to achieve the goal of increasing the trade volume to $ 30 billion, which, according to him, could not be achieved without the private sector. They aim to support the private sector and eliminate the obstacles preventing its growth, he said. Vaezi told that it was government's duty to eliminate the problems experienced in banking and customs transactions, and Prime Minister Davutoğlu was willing to see industries of the two countries cooperate in a win-win mentality. He also pointed out the growing number of products part of the Preferential Trade Agreement between Iran and Turkey.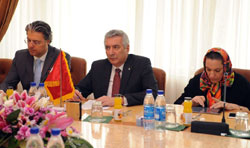 Vaezi further stated that their Ministry was willing to work one-on-one in the projects proposed by the ICI, recognizing Istanbul's economy as well as the ICI's power and capabilities. Vaezi expressed his discontent with the suspension of bilateral relations back to eight months ago and continued: "I said it when I came to Ankara for the Joint Economic Committee meeting. Let us make our decisions in such a way not to allow political divergences influence our bilateral relations. Good economic relations will positively affect the political relations."
He mentioned that they did not forget the support of those countries, including Turkey, which stood with them during the embargo, and stressed that Iranian and Turkish economies are not rivals but sustain each other. "As a government representative, I say that Turkey is the first country with which we would like to improve our relations after the embargo," Vaezi said, and emphasized their intentions to establish a particularly special relation with Turkey. He further mentioned the problems regarding the banking industry and continued to express that they have covered significant ground with Turkey in terms of banking, and Ziraat Bank decided to cooperate with them. They also decided to hold a joint meeting with the Banks Association of Turkey and Eximbank extended a $400 million loan to them, Vaezi said, and expressed their willingness to see Turkish and Iranian banks open branches within each other's borders.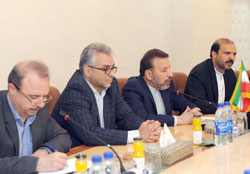 Minister Vaezi stressed that he sincerely wanted to see the projects progress, and told: "You'll help me, I'll help you, this is what friendship is about. We need to cooperate on trade, transport, tourism, and construction business. We are willing to work with you for gas and oil, and ready to deliver electricity in volumes three or four times higher than you currently purchase. When there is something we need, we want to give Turkey priority in our procurement of it."
On behalf of the ICI, Chairman Erdal Bahçıvan thanked Minister Vaezi for their hospitality. Bahçıvan reminded the audience of Turkey's support during the days of embargo, telling that they had been in Tehran during the embargo and came to Tehran once again. With 64 years of experience, the ICI is the most deep-rooted and powerful representative of Turkish industry, said Bahçıvan, and told that all companies operating across different industries created their own advantages, relying on powerful histories and structures. Bahçıvan explained that the ICI did not have a tradition of foreign visits as they rather visited Turkish cities such as Malatya, Kayseri, Sivas, etc. but they came to Tehran as if it was a sister city: "We care for Tehran as we care for Malatya or Trabzon."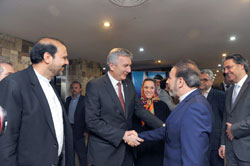 Bahçıvan told that their aim in the Visit to Tehran was not to sell or purchase a product, but to form a strategic partnership to further the relations in the future. Bahçıvan: "We believe that the private sector's 'win-win' model will shape the future of all relations. I have a dream. Today, Turkey is one of the world's biggest economies with an $800 billion GDP. God willing, we will increase it to $1.5 trillion in line with our Government's and President's goals, letting Turkey become one of the top ten economies. With a GDP of $400 billion, Iran is a remarkable economy as well. Hopefully, Iran will see $1 trillion when such obstacles are removed. This dream is not intended for our grandchildren. We are young, and we will see it come true. That is, in ten years ahead, two sister countries will be listed among the world's biggest economies. This framework implies a potential of $100 billion, not $30."
According to Bahçıvan, problems of banking, customs and transport are insignificant compared to those major targets: "You focus on the vision, and we will resolve the minor issues among ourselves at the chambers. We are ready to assume responsibility to resolve such issues with a partner of your choice by forming an Iran Desk at the ICI. If you assign us to this mission, you will gain more time to work on the vision as we work on these matters." This proposal was well received by Vaezi, who promised to appoint his staff.

Future lies in science and technology, Bahçıvan said. He also expressed their willingness to share with Iranian friends, as a model, the work carried out in cooperation with universities – as part of the industry-university partnership – techno parks and vocational high schools. Bahçıvan pointed out that European countries have established the world's best union after fighting each other for long years, and he further suggested that there was no obstacle to prevent the two countries' cooperation as they have had no conflict for 400 years. There is no need to look for other models, Bahçıvan said.
During the meeting, Rıza Hakan Tekin, Turkish Ambassador to Tehran, stated that they were fortunate to have a minister in charge of relations with Turkey and to see the positive attitude of Cevdet Yılmaz, Turkish Minister of Development. He suggested that these opportunities should be utilized.