Istanbul Chamber of Industry Announces the Turkey and Istanbul PMI Manufacturing Survey Results for September 2016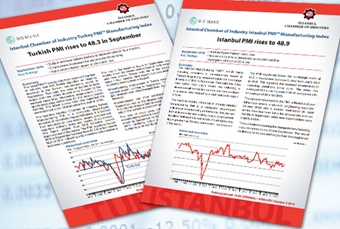 Istanbul Chamber of Industry announced the Turkey and Istanbul PMI (Purchasing Managers' Index) Manufacturing survey results for September 2016. The survey is recognized as fastest and the most reliable reference for the manufacturing industry's performance, which is a key indicator for economic growth.
According to the survey, the index, which stood at 47.0 in August, has grown to a four-month high with a result of 48.3, indicating a slight decline in operating conditions. Production and new orders saw the slowest decline in the last four months. The decline in production and new orders was lower than that of August, and at the slowest level since May. Furthermore, Turkish manufacturing industry employment has grown for the second consecutive month. The latest survey indicates that the inflation in input prices has declined to its lowest level since early 2015.
Trevor Balchin, Senior Economist at Markit, commented on Istanbul Chamber of Industry Turkey PMI Manufacturing survey: "The latest survey indicates that the Turkish manufacturing industry continues to see a decrease in production and new orders in September. However, the rate of this decrease has declined to its lowest level since May, while the industry continued to increase employment. Another important finding was the declining inflationist pressure.
Istanbul PMI Manufacturing index grows in comparison to July
The Istanbul Chamber of Industry PMI Manufacturing index stood below the threshold of 50.0 in September, yet saw an increase from 48.0 in July and 48.7 in August to 48.9 in September. Thus, the index has shown that the operating conditions saw the mildest decline since June. The index's average from the beginning of 2016 stood at 49.2, higher than the 2015 average of 48.4.