Istanbul Chamber of Industry Hosts Trade Mission Representatives at Iftar Dinner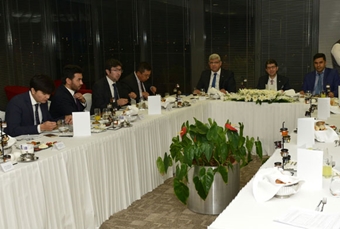 Istanbul Chamber of Industry (ICI) hosted the representatives of Indonesian and Afghan trade missions in Istanbul at an iftar dinner. ICI Board Member M. Ata Ceylan spoke during the event that took place at the ICI headquarters, highlighting ICI's great importance to cooperating with the trade mission representatives in Istanbul, and their willingness to participate in joint efforts to further commercial and economic cooperation between the countries.
Guests also expressed their views on Turkey during the meeting. Toary Worang, Indonesian Undersecretary of Trade, expressed that Indonesia was an attractive market for Turkey thanks to its large population and economic power, and he suggested that both countries organize mutual missions to allow business people know each other better. Mohammad Ashraf Zaki, Commercial Consul of Afghanistan, told that they expected investment to their country where there were government incentives for investors. Participants received updates about the Turkish economy and Istanbul Chamber of Industry and emphasized that Turkey's improved relations with these countries of deep-rooted mutual friendship have greatly contributed to the regional peace, stability, and cooperation.