Shai Cohen, Consul General of Israel in Istanbul, Made A Farewell Visit to ICI Chairman Bahçıvan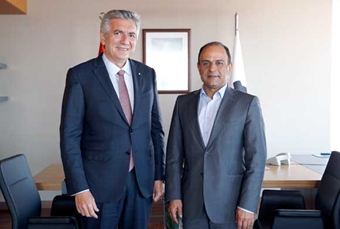 Shai Cohen, Consul General of Israel in Istanbul who is leaving the office he has taken since 2014, made a farewell visit to Erdal Bahçıvan, Chairman of the Istanbul Chamber of Industry (ICI). Munir Agbariada, Commercial Attaché of Israel, was also in attendance. During the visit, Cohen said that in his term, they worked in close contact and had opportunities to cooperate with ICI. He voiced his wish that this close contact and cooperation would continue with the successor to Consul General. ICI Chairman Erdal Bahçıvan expressed gratitude to Cohen for his farewell visit. Emphasizing that they would continue the same level of communication with the successor Consul General, Bahçıvan wished Cohen success in his new mission.
During Cohen's tenure, in May, ICI hosted an event assembling Turkish and Israeli business circles for collaboration in advanced technology, a key determinant of an industry's competitiveness. The meeting titled "The Israeli Experience in Technology Development and Partnership Opportunities" held in cooperation with Consulate General of Israel was attended by Erdal Bahçıvan, ICI Chairman, and Shai Cohen, Israeli Consul General in Istanbul as well as prominent Turkish and Israeli industrialists. The meeting addressed R&D projects, the ecosystem of technoparks, and scientific and technological partnership opportunities between Turkey and Israel, the latter being one of the world's leading countries in innovation.