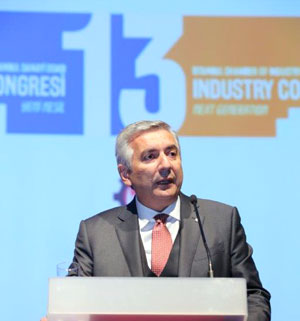 Our 2014 Industry Congress, which examined the powerful theme of "The Great Encounter with the 21st Century", had elaborated in detail the problem of mediocracy facing our country in the contexts of "Economy, State-Democracy-Society, Companies and Education" in collaboration with competent stakeholders from every field, and delivered the results with a Congress Declaration.
The 13th edition of the Industry Congress was held this year on October 8 and it included a variety of innovative practices.
In terms of content, it followed the next generation congress format as practiced around the world. With live streaming via Periscope and Graphic Recording, the congress marked one of the first instances of this new perspective in Turkey.
Themed "To Overcome Mediocracy: Human and Culture", the Congress featured among its guests renowned figures in their respective fields, such as Emin Çapa, Ahmet Çalık, Agah Uğur, Ahmet Nazif Zorlu, Mustafa Denizli, Demet Akbağ, Sermiyan Midyat, and Ali Nesin, who contributed to the discussion to create a unique, result-oriented initiative aimed at delivering holistic development with the motto, "Let's Build the Future Together".
With a performance that exceeded even the attention it garnered last year, the Congress was held in an atmosphere of cooperation and synergy created by the participants.
As part of our 13th Congress, the section "Speakers' Corner Workshops: Now It's Your Turn" focused on questions regarding "production", "human being", "cooperation" and "sustainability" with a view to overcoming mediocracy. At the end of the Congress, a final declaration titled "Open Call" was co-produced with the participants and social media users.
Please visit www.iso.org.tr/kongre for access to the presentations, information about the speakers, and other details about our congresses.