50 Years of History: Easier Said Than Done!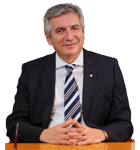 Drawing strength from its members, Istanbul Chamber of Industry has left behind 63 years of successful efforts to turn Turkey into an industrialized country.
Just like 63 years ago today, Istanbul Chamber of Industry considers service to members its main reason of existence. We take pride in our Sanayi periodical, a loyal company in our journey for 50 years.
50 years of history: easier said than done! The first economy periodical of Turkey, Sanayi gives voice to Istanbul Chamber of Industry and its members and has been taking the pulse of our industry and economy since March 15, 1966. We published the first issue of Sanayi as supplement this month.
In retrospect, Sanayi has gone through constant change and renewal according to emerging needs over time.
The periodical has so far covered issues experienced by not only large businesses but small-scale businesses as well. At a time when our industry was expanding abroad, February 1987 issue of Sanayi was entirely dedicated to problems of small and medium-sized enterprises.
1991 was the year that marked the 25th anniversary of the Customs Union. Sanayi periodical had wide coverage of Customs Union in early 1990s. In the turn of the millennium, Sanayi periodical focused mostly on globalization, cooperation with local governments, technology and R&D.
Bearing witness to change in Turkey for decades, Sanayi went through a radical change in 2013. As of October 2013, Sanayi will be published in a new format. Sanayi today enjoys wide readership with interviews, up-to-date cover stories and extensive coverage of developments in the industry.
I wish many happy and successful returns to our periodical, fully believing that it will keep up the good work with the support of our industrialists and readers.
Erdal Bahçıvan
Istanbul Chamber of Industry
Chairman of the Board