A Global Duty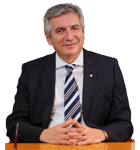 The G20 Leaders Summit hosted by Brisbane, Australia this year took on a different significance for Turkey...
Turkey will take over G20 term presidency as of December 1, 2014. I participated as Executive Board Member of B20 Turkey in the G20 Summit in Australia which manifested how Turkey is followed closely not only by developing countries but by developed countries as well. Indeed, Turkey will get a very solid foothold in the world agenda throughout 2015 due to this global duty it will assume.
The first G20 Leaders Summit was held in 2008 and since then it has focused on global economy. Turkey's particular emphasis during the Australia Summit on the humanitarian problems and the reinforcement of cooperation to eliminate these problems points out to the fact that our country will not focus on economy only during its term presidency. In the light of this vision, Turkey is expected to lead countries outside the G20 to integrate into the world economy and politics. It is of great significance that through the global duty our country has assumed, G20 will broaden its scope and will give voice to the silent...
Another very important development took place in the Australia Summit. M. Rifat Hisarcıklıoğlu, Chairman of the Turkish Union of Chambers and Commodity Exchanges, took office as Term President of B20, the business world group of G20. B20 Turkey will last all year long and will host major leaders from the business world in Turkey both of which will contribute substantially to our business world. Moreover, the chief impact of Turkey on B20 will be its goal to bring an end to B20's status as the club of big multinational companies and create a new task force in "SMEs and Entrepreneurship".
We as Istanbul Chamber of Industry will be immensely honored to provide any kind of support for the accomplishment of the new global role our country has assumed...
Erdal Bahçıvan
Istanbul Chamber of Industry
Chairman of the Board