Ahead of a New Reform Period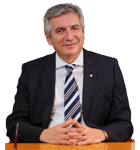 Turkey is about to usher in a new reform period with the newly-formed government following the elections on November 1st. Everybody will have duties and responsibilities in this new period.
Istanbul Chamber of Industry has contributed to the development of industry both in Istanbul and Turkey for 64 years. Considering the weight of Istanbul in national industry and economy, it is clear that our chamber's endeavor to advance its own work and Istanbul's industry is also an effort to advance Turkey at large. With that responsibility in mind, Istanbul Chamber of Industry would like to offer its ideas and propositions as contribution to structural reforms Turkey is about to introduce.
The new economic narrative that will go along the reforms will focus on industry and manufacturing, a welcome development born out of a consensus between the real sector and the government. We believe that a culture of cooperation will play a major role in this transformation. We are in the hope to start a sustainable and permanent dialog with our new government, ministries and the bureaucracy. To serve this aim, we prepared a report based on our ideas and propositions for the reforms. We consider this report the first step towards a vibrant communication and dialog.
It is more critical than ever that we form a stable and sustainable cooperation with our government. Our report is on the expectations of Istanbul Chamber of Industry from our government. As is required of a culture of cooperation, the work draws on the Tenth Development Plan. We have devised our short, medium and long-term propositions and priorities within the framework of Turkish Industrial Strategy Document and Priority Transformation Programs, both of which contain especially tangible actions. We have also included the contribution of our Assembly and Sectoral Committees.
Istanbul Chamber of Industry expects that these propositions we consider crucial for our national industry be evaluated, with reforms cited in action plans launched as soon as possible.
Our aim with this report is to start a start and foster a vibrant, measurable and developing dialog between Istanbul Chamber of Industry and our government.
Erdal Bahçıvan
Istanbul Chamber of Industry
Chairman of the Board