An Interactive Congress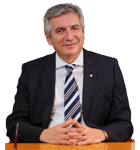 Industry Congress is a brand value for Istanbul Chamber of Industry. Following a long and intense period of work, the congress is now held in a new format in the spirit of our age.
Our next-generation interactive Congress is marked by the concepts of "co-creation" and "cooperation". Our Congress held in Haliç Congress Center on October 8, 2015 hosted numerous chambers of industry and commerce across Anatolia, becoming a platform on its own.
Last year, 12th annual Industry Congress was marked by the theme "Confrontation with Mediocrity for Holistic Development". This year, the theme will be "Confrontation with Mediocrity in the Economy, State, Democracy, Society and Companies; and Exit Strategies".
Recently we have been stressing the importance of "holistic development" in every platform. One of its best examples in the world, Finland will be under spotlight during the congress.
Four workshops will be held during the 13th Industry Congress to discuss reproduction economy, an emerging concept in Turkey and around the globe. The topics of discussion for the workshops will be production, humanity, cooperation and sustainability.
The workshop will draw a wide array of participants including industrialists from Anatolia and Istanbul, young people, women entrepreneurs, angel investors and opinion leaders.
Three unique events during the 13th Industry Congress will host discussions on mathematics, failure and technology. PISA and YGS/ LYS exam results reveal a dire picture of failure. We will be discussing mathematics during our Congress in an effort to raise social awareness on this issue. We in Turkey largely concentrate on success. But failure is equally a part of life. Young people focus solely on achievement, an attitude that gives them hard time tolerating failure and discourages them from starting anew. We will tackle this important issue during our congress.
The hard work of preparations is nearing the end. We will be highly pleased to host esteemed industrialists in the 13th Industry Congress.
Erdal Bahçıvan
Istanbul Chamber of Industry
Chairman of the Board