Financial Innovation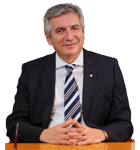 The age of monetary abundance we have been experiencing until recently has now come to an end. I guess nobody doubts that access to financial resources will not be as easy as it used to be. It was hard to make a living yesterday, but it is even harder today.
In the globalizing world of today, businesses in our country face a lot of problems in production, marketing and research and development. Inadequate financing and difficulties in access to finances are the roots of these problems.
Our economy and companies pay unquestionably huge prices as a result of these challenges. The problems faced by the real economy are clearly manifested in our study entitled "Turkey's Top 500 Industrial Enterprises - 2013". The financing costs of ICI 500 companies have exceeded 53% of their operating income which demonstrates that more than half of the profits generated by companies are lost to financing costs.
One of the major reasons underlying this situation is that companies incur debts by invariably using bank loans. It is disheartening to observe that our companies perform very successfully in their main sphere of activities while failing to perform as well in creating and using finances.
My concerns grow even bigger in view of the latest developments and risks because risks grow larger in size. Cross rates will incur substantial loss. Consequently, there is a need for urgent innovation in finance just as is the case in other areas. In an environment where the financing costs of our companies extend 53% beyond their operating income, we need to orient ourselves towards a new consideration and perspective in financial innovation. In other words, even if you manufacture a new product in an innovative way, it will be hugely problematic if you spend a large amount of your profits on financing. This is precisely the reason why financial innovation is crucial.
Erdal Bahçıvan
Istanbul Chamber of Industry
Chairman of the Board