From Entrepreneur to Industrialist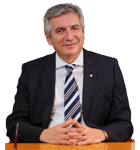 Recently, we took a significant step with "ICI- ITU SEED Entrepreneurship Ecosystem" in cooperation with Istanbul Technical University, an internationally-acclaimed scientific institution.
Turkey's goal is to make it to the league of developed countries. It also needs to raise its competitive edge and must constantly create innovation in a world shaped by globalism and a brutal economic strife.
This is precisely why we must always remember the vital role of entrepreneurship, global talent and innovation for our future. With that in mind, Istanbul Chamber of Industry (ICI) has emphasized in recent years the importance to develop an awareness for and a spirit of production-oriented entrepreneurship in Turkey.
ITU SEED Entrepreneurship Ecosystem undertakes a crucial mission to bring together academics, mentors, entrepreneurs, industrialists and investors. As main stakeholder, ICI will contribute to the ecosystem in the following areas in the upcoming term: As of 2015, industrialists who are members of our chamber are a part of the jury to evaluate entrepreneur applications. The "ICI Industrialist of the Future Award" given on November 14, 2015 will be henceforth distributed annually.
We act as a bridge between entrepreneurs and industrialists by uniting creative, young entrepreneurs with successful and experienced industrialists. "ICI Industrialist of the Future Award" is not the only award we distribute. Additionally, we bring together other entrepreneurs entitled to join ITU Seed Ecosystem for one year under the roof of "ICI COCOON".
The COCOON will unite creative ideas with manufacturing industrialists within a culture and awareness of production, offer our entrepreneurs a chance to experience production in factories through entrepreneur-industrialist pairing and help their entrepreneurial ideas turn into reality. We will therefore let creative ideas fly like butterflies out of their cocoon. ICI COCOON Model will offer "mentorship" to entrepreneurs to help them develop their work strategies.
In an effort to develop a culture of competence and production in young entrepreneurs, we have also planned "training" programs for effective project management, corporate productivity, innovation and technology management etc. We will also provide "industrialist trainer" support to have entrepreneurs turn innovative ideas into commercial value. In a nutshell, we are in the process of founding an ecosystem with dynamic entrepreneurs and industrialists guided with a sense of vision and mission and capable of creating employment. Inspired by various success stories in the area around the globe, we are excited to be a trailblazer in Turkey with our new model.
Erdal Bahçıvan
Istanbul Chamber of Industry
Chairman of the Board