Global Climate Change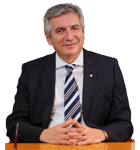 Global climate change is one of the most pressing problems of the 21st century.
Due to climate related calamities witnessed in Istanbul and other parts of the country, the issue became a critical part of our agenda too.
It should be remembered that climate changes, with resulting effects ranging from draughts to floods and changes in water level, pose a serious problem for social and economic development.
There is one thing I would like to point out: Although climate changes have been occurring throughout history, it is the first time this change is brought about by human activity. As this problem is caused by people all around the world, the solution must also be the result of the cumulative efforts of all countries.
One of the most dangerous and challenging effects of climate change is draughts and the resulting famine, one of the four horseman of apocalypse.
Our country does not possess rich sources of water, and with our ever increasing population, it is evident that a global climate change would cause our climate to become more arid.
Aside from its vital role in our life, water is also among the most critical inputs of industrial production. Droughts and deviations in precipitation caused by climate change mean an ever greater challenge for our water resources.
In such a time, prioritizing the use of water resources towards drinking and household usage could cause shortages in the industry, which would no doubt affect all sectors, particularly those highly dependent on water. Therefore, we all must act more responsible in using water more efficiently.
We, as industrialists, have an important responsibility. Holistic, sustainable development, the main theme of our latest Industry Congress, is a principle we all must embrace.
80 percent of all product-related environmental impact is determined during the design phase. Therefore, environmental awareness must be a critical factor in the design of industrial products. By taking into account environmental factors, we can help minimize the environmental impact of a product throughout its life cycle.
Based on this fact, I believe that the environment must be a vital point of all our efforts, particularly those related to R&D and education.
Erdal Bahçıvan
Istanbul Chamber of Industry
Chairman of the Board