Global Disorder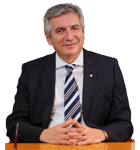 Order, stability and predictability have dominated interpretations of developments across the world until the global economic crisis that broke out in the USA in 2008. Another concept, little known by the new generation, was introduced fifteen years earlier: New World Order, suggested after the fall of the Berlin Wall.
Nobody remembers the concept of "New World Order" today; with instability, disorder and uncertainty becoming the currency of our age. We are going through an era in which it's very difficult to produce ideas and solutions to eliminate problems and plan for our future. Things used to be far easier before. Long-term plans, indisputable facts, easy forecasts about the future are a thing of the past. But all these left behind used to ensure trust and mental ease in people who could come up with analyses far easier.
Global and regional developments of our day take hold of the world so fast that we think of the world "as out of joint". Iraq, Syria and Yemen lose hopes of peace each day while terrorist attacks in Kuwait, Tunisia and France reveal the global spread of violence.
Global and regional economies offer a dismal picture as well. Greece is unable to overcome the debt crisis, China suffers from a stock market crash, oil-exporting countries such as Russia and Saudi Arabia lose revenues; all of which contribute to a sense of disorder reigning over global economy and increasing global risks.
Young population in poor regions of Africa and the Middle East continue to swell rapidly, with countries suffering from a lack of resources, unemployment and migration. This harrowing global instability is further complicated with human tragedies. Boats carrying illegal refugees sank in the Mediterranean, a severe blow to our conscience.
This global trend and disorder are ominous signs. We must establish a global sense of leadership, conscience, justice and solidarity.
Otherwise, we will lose altogether.
Erdal Bahçıvan
Istanbul Chamber of Industry
Chairman of the Board