"Industrial Strategy Document for Istanbul"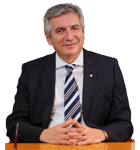 Istanbul Chamber of Industry has been working on "Industrial Strategy Document for Istanbul" for more than a year. The recently finalized document was shared with public at a press meeting in February.
The document is first of its kind in urban industrial strategy in Turkey. It is also the first feedback from the business world on "Priority Transformation Programs in Economy" announced by the government. The feedback is most welcome by our Prime Minister.
Primary data for the document were obtained from one-to-one interviews and focus group meetings as well as surveys for ICI members to draw a higher participation among them. Secondary data include analyses of reports, articles, books and similar documents considered to have a potential impact in the industrial strategy of Istanbul.
As a result of the study, a total of 46 strategies under 18 headings were established for Istanbul to reach industry goals set for 2023. 85 action plans have been devised to implement these strategies. The strategies were prepared in a participatory and transparent approach, making it easier to adapt for industrialists, main implementers of the strategies.
The document prepared by Istanbul Chamber of Industry, the leading NGO of Istanbul's industry, must be considered as an input for future plans of the city's industry as well as an important study for industrial entrepreneurs who will invest in Istanbul.
Erdal Bahçıvan
Istanbul Chamber of Industry
Chairman of the Board