Keeping Finger on the Pulse of Turkish Economy, Industry and Companies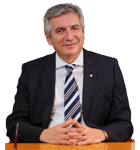 Our industry magazine keeps its finger on the pulse of Turkish economy, industry and companies as always. We are once again here with a complete magazine following this mentality.
This issue mainly focuses on economical assessments. We had included a comprehensive file about Turkish economy to this issue of our magazine. Well, why did we do this? Because, Turkish economy faces pressures that had been seen throughout the year and some of them still continue. The main ones are as follows: The increasingly continuing geopolitical risks, the shrinkage in the global trade, the political tension with Russia that continued for the first half of the year and the outrageous coup attempt on July 15. On this file supported by experts, you will be able to find broad information regarding the subject and up-to-date data for the macro indicators. I believe that you will be reading this file with great interest.
Recently, institutionalization is gaining importance in family companies for a sustainable economic growth and success. Thinking that more than 90 percent of the companies in Turkey are family companies and only 2 percent of the family companies can see the fourth generation, the importance of the subject is clearer. From this viewpoint, we had discussed this issue with Bülent Akarcalı, Former Turkish Minister of Health and Tourism, and Dr. Haluk Alacaklıoğlu, Chairman of Family Company Management during our assembly meeting in October. This issue of our magazine includes a wide summary of this assembly meeting on family companies.
Another subject that we would be sharing in this issue concerns an important event of our chamber. As you know, our chamber is an important stakeholder of the 'ITU Core' entrepreneurship ecosystem of Istanbul Technical University as of 2015. As we did in the grand final of "Big Bang" contest last year, we experienced the pride of giving the "ICI Industrialist of the Future" grand prize to the winning entrepreneurs of this year, too. I would like to state that we will continue to act almost like a bridge between the entrepreneurs and industrialists by bringing together our successful and experienced industrialists with young entrepreneurs that have creative ideas following the Big Bang finals.
In this issue of our magazine, we also covered an important event of ICI Foundation. We reflected the operations performed in two schools of our foundation this year within the scope of "Life in Class" project to the pages of our magazine. The objective of this project that will improve the awareness of the students regarding the profession that they are studying is to provide guidance for the students to be raised with the right motivation in line with the founding purpose and goal of the vocational high schools.
Many other subjects that I can't list here enrich this month's issue. I would like to especially underline that our magazine will continue to be a platform for assessing the subjects concerning Turkish economy, industry and companies competently as it did until today.
Erdal Bahçıvan
Istanbul Chamber of Industry
Chairman of the Board