New Economic Model and SMEs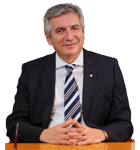 Turkey needs a new economic development model based on the industry and geared towards finding a way out of the middle income trap.
Industry plays a central role in development in high-income countries who do not suffer from the middle income trap. Industry is not only the catalyst sector that transforms economic structure but also allows a rapid accumulation of capital with high-rates of investment.
This brings me to a point I consider important for SMEs. The new economic development model must absolutely take into consideration the reality of SMEs in Turkey. SMEs are the backbone of our economy. As main players of global competition, they are at the core of economic developments all around the world more than ever before.
SMEs today work on competitive areas such as entrepreneurship, innovation, efficiency and flexibility. As you know, Turkey will be the term president of G20 this year. I am a member of the Executive Committee of B20, the business forum of G20. B20 has five working groups, one of which is entitled "SMEs and Entrepreneurship". I would like to note that this is the first time SMEs draw this much attention at this level, which demonstrates how they are becoming more and more important not only in Turkey but around the globe at large.
If our SMEs solve their problems and achieve one success after another within a challenging world, they will both add to the strength of Turkey and raise our level of peace and prosperity. Istanbul Chamber of Industry believes that growing business means bigger bread which in turn brings happiness for all.
Erdal Bahçıvan
Istanbul Chamber of Industry
Chairman of the Board