School-Industry Cooperation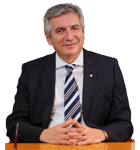 We, at Istanbul Chamber of Industry, pay special attention to education and the youth, the guarantors of the future. When the production regains importance all across the world, our main objective, as industrialists, is to switch to a high value-added production and export structure. And it is only possible through well-educated and qualified labor to produce high value-added goods.
We, as industrialists, are still hard-pressed to find qualified labor. Given the unemployment problem, it is quite thought-provoking that our industry is still having a hard time finding qualified people. Sad but true: in our country, we still lack a strong bridge between education and employment, a bridge that would be a remedy to all sorts of problems in this respect.
In building this bridge, we strongly believe that the vocational education should be at the center of all efforts. But a crucial point, while focusing on the vocational education, is to ensure the currently non-existing link between schools and businesses.
We have taken the first step on this important issue by signing the "School-Industry Cooperation Istanbul Model" protocol on October together with the Ministry of National Education and the Ministry of Labor and Social Security. One of the most original feature of this School-Industry Cooperation Istanbul Model is the governance approach it offers. This project has a far more stretching vision than simply providing technical infrastructure support to the schools.
By opening the doors of vocational high schools to industrialists, we give them a chance to contribute to the education of the qualified labor that they are hoping to employ. On the other hand, the educators are given the chance to visit the plants and refresh their knowledge by observing the latest practices on site. Our model also contributes to the technological cooperation between schools and the industry. While the businesses support the technological infrastructure of the workshops and laboratories in the schools, the students will get a better education under the light of the latest practices and the chance to be interns.
Under the scope of the School-Industry Cooperation Model, we match and strengthen the bond between more and more vocational schools and businesses every day.
I would like to particularly emphasize our objective to increase the number of success stories in the coming period. Any contribution from your side will only make us stronger.
Erdal Bahçıvan
Istanbul Chamber of Industry
Chairman of the Board