Two Main Pillars: Law and Economy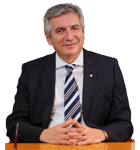 We are undergoing a period in which legal reforms have become of key importance for our country's economic development. As Turkey initiates a period of comprehensive reforms, we need the establishment of a swift and effective legal system through improvements to the judicature.
Judicial reform is a necessity brought about by social changes. Legal rules emerged as a result of human being's efforts to regulate social life, given the fact that humans are social beings. Nevertheless, these rules are always subject to change in line with the zeitgeist.
Speaking of legal change, one should remember that law means everything to a society. It matters so much that we see developed countries grow on two main pillars: law and economy. Fundamentally, both law and economy are about human relations. As such, the harmony of these pillars is also of key importance.
Legal regulations follow social changes. Today, technology represents the primary factor that drives social transformation. When we consider our immediate environment, we can observe that our business conduct, channels of communication, means and speed of transport, and way of communicating with our friends are changing. It is only natural that the relations between the state and the individual are also being transformed by this change.
In fact, all these are driven by the phenomenon of globalization. Globalization brings about a convergence of national and international laws to such an extent that the process of adjusting national law to international norms is carried out with an ever-increasing pace in many countries around the world.
Alongside the aforementioned developments, the great social and economical changes recently experienced in Turkey have necessitated legal reforms as a priority. In this context, the "Legal Reform Strategy" announced by the government has raised our hopes.
The five primary objectives of the strategy are highly relevant. Accordingly: Judicial independence and impartiality will be reinforced. Accountability and transparency will be improved. Efficiency and speed of judiciary functions will be ensured. A human oriented system will be developed. Liberties will be protected and enhanced. In this regard, we also have our role to play. The Istanbul Chamber of Industry has taken relevant steps to establish a continuous and effective cooperation with the Ministry of Justice in order to create solutions for the issues experienced by our industrialists throughout the new legal reform process.
Erdal Bahçıvan
Istanbul Chamber of Industry
Chairman of the Board