55 German Companies Met with Turkish Industrialists at Odakule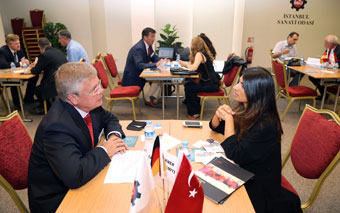 Under the coordination of the Enterprise Europe Network in Istanbul, the Istanbul Chamber of Industry (ICI) and the Leipzig Chamber of Trade and Industry together organized an event titled, "Germany Business Forum and Bilateral Business Discussions." With the Chamber hosting the event at Odakule, a promotional presentation was made to the delegation on the activities of ICI and its members. The subjects discussed at the meeting included the economic situation in Turkey, investment opportunities in Turkey and Germany, the incentives provided to enterprises in Turkey, the problems our businessmen are encountering regarding visas in Europe, Turkey's goal for 2023, among others.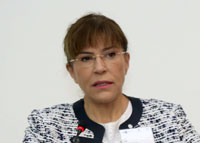 Speaking at the opening of the event, ICI General Secretary Melek Us remarked that ICI has been a member of the Turkish-German Chamber of Commerce and Industry since 2006 and that the chambers had collaborated in many activities since that time. Commenting that with the Customs Union, the economic integration with the European Union had been carried to a higher level, ICI General Secretary Us touched upon the visa issue that businesspersons were experiencing in their trade relations. Melek Us said, "Not only have visa processing times and terms not been standardized in all member states in the Schengen Area, but our biggest trade partner in the EU, Germany, stands out in the group as having the longest visa procedures and the strictest terms and conditions. Freedom of movement for persons is as important as the free circulation of goods if relations between two countries are to flourish. Because of this, we think it would be appropriate if a facilitated procedure could be established that would apply particularly to recognized businesspersons. We would like to have your support in our future lobbying for this issue."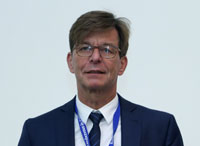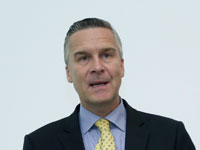 Speaking later on, Leipzig Chamber of Trade and Industry Chairman of the Board Dr. Thomas Hofmann expressed his satisfaction with the meeting and the point at which the collaborative relations of the two chambers stand today. Turkish-German Chamber of Trade and Industry / Istanbul General Secretary Jan Nöther spoke afterwards, presenting examples of the experiences of German enterprises in Turkey. Business opportunities for joint investments were afterwards discussed at the bilateral sessions between the German and Turkish companies. The event enjoyed the participation of 11 German firms and 32 Turkish companies; 42 bilateral business discussions took place.