Assembly for September Discussed "The Importance of Capital Markets' Support to Our Industry"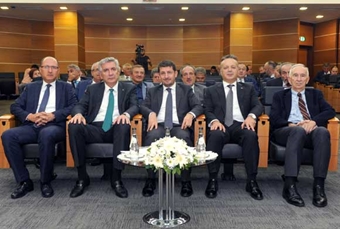 Istanbul Chamber of Industry's (ICI) ordinary Assembly meeting for September was held in Odakule on Wednesday, September 27, 2017 with the main agenda: "Importance of the Stock Exchange and Capital Markets' Support for Our Industry's Sustainable High Growth". Himmet Karadağ, Chairman of Istanbul Stock Exchange (BIST), was the guest speaker of the meeting, chaired by Hasan Büyükdede, ICI Assembly Vice Chairman.
In his speech regarding the agenda of the September Assembly, ICI Chairman Erdal Bahçıvan said "Success of our industry, which is the engine of economic growth, depends heavily on accessible and low-cost qualified financing sources, such as the stock exchange and capital markets. BIST will play a critical role in meeting this financial need".
The guest speaker of the September Assembly, Himmet Karadağ, Chairman of Istanbul Stock Exchange, said: "Our companies must meet their financing needs not only through banks, but also through the stock exchange and capital markets, for a sustainable growth in Turkey."
Hasan Büyükdede, ICI's Assembly Vice President, delivered the keynote speech at the Istanbul Chamber of Industry's September assembly meeting. Addressing the meeting's main agenda in his speech, Büyükdede said: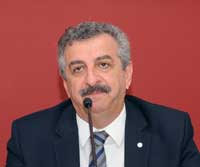 "Turkey, despite the referendum process and a great deal of disturbances surrounding it, has achieved an average growth rate in this period. It has become one of the few countries to achieve such growth. We must make the best use of economic instruments in order to maintain this growth in a stable and sustainable way. In this Assembly meeting, we will focus on the support that the stock exchange and capital markets can provide our industry for maintaining strong growth in this direction."
Following his speech, Hasan Büyükdere, ICI Vice President of the Assembly, invited ICI Chairman Erdal Bahçıvan to the floor to share his views on the agenda. Starting off by reviewing regional developments, Bahçıvan said that the independence referendum carried out by the Northern Iraq Regional Government, despite the advice from neighboring countries and global powers to postpone the referendum, has seriously upset the political balance in the Middle East. Stating that the political authority is closely monitoring these developments in consideration with security and interests of Turkey, Bahçıvan noted that this matter in all its dimensions, including political and economic aspects, is of particular concern to ICI.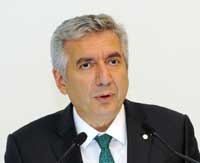 Bahçıvan, referring to the election held on Sunday in Germany, reminded that the Alternative for Germany Party, known for its xenophobic ideology, made a strong debut, while the ruling party and central parties lost a considerable ground for the first time since the World War II. Noting that Germany will also be challenged in forming a government similar to the Dutch case, Bahçıvan stated that they aspire to see common sense shaped around mutual interests in bilateral relations with Germany in the coming days.
Bahçıvan also commented on the Medium Term Programme announced today, and remarked that the growth target for the next three years is expected to exceed 5 percent. Noting that the industrialists are faced with high costs due to meeting their need for capital predominantly through bank loans, Bahçıvan said that commercial loan interest rates exceeding 17 percent put companies under serious economic burden. Having pointed out that it will no longer be possible to provide a strong sustainable development period purely through banking channels, Bahçıvan said that it is necessary to diversify financing sources as well as to examine options of growth through capital markets. Bahçıvan also noted that this would minimize the risks arising from loans.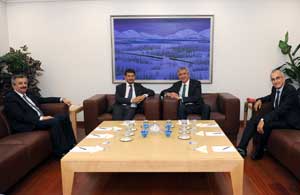 Bahçıvan signaled active and well-functioning capital markets as key driving forces of long-term sustainable growth and emphasized that capital markets played an undeniable role in development of the advanced economies. Bahçıvan underlined that leading global companies of Europe and the US had thrived through capital markets.
Bahçıvan reminded that the Turkish economy established a modern stock exchange as a result of the economic liberalization period in 1980s and noted that Istanbul Stock Exchange is the most fundamental and critical institution that brings capital markets and real sector together. Bahçıvan stated that Borsa Istanbul endeavors both to turn Istanbul into a strong global financial center and to bring depth in capital markets while rapidly expanding its activities through international collaboration and making progress to become a global stock exchange.

Bahçıvan indicated that Turkey had a huge opportunity to attract the capital retreating from the UK due to Brexit. Stating that Istanbul has the qualities and the know-how to be a center of attraction for international capital, Bahçıvan said moving proactively to strengthen Istanbul's position as a global financial center in this process will greatly contribute both to the Turkish industry as well as the economy. Bahçıvan underlined that being more integrated with international finance circles will support qualitative transformation of industrial corporations.
Bahçıvan expressed that the new Capital Markets Law, enacted in 2012, has significantly benefited Turkey, but that there is still a long way to go and further steps to take for getting a better position in capital markets. Bahçıvan added "When compared to the performance of the overall economy, capital markets did not grow at the desired pace. We observe that the ratio of public companies to GDP remains very low in Turkey, compared to countries with similar economic characteristics. We have a strong potential to realize."
Bahçıvan continued as follows: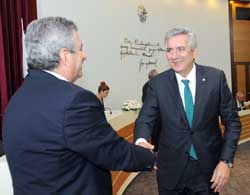 "Unfortunately, companies may hesitate about going public for different reasons, even if they want to entertain opportunities of the capital market. As a demonstration of this hesitation, there is a noticeable slowdown at the rate of public offerings in recent years. To sum up, when taking current regulations and level of institutionalization into consideration, our companies seem to reach the limits of their public offering rates. Therefore, the capital market requires new regulations. On the other hand, from the savings perspective, we believe that, lack of information on capital markets in Turkey plays a role for savers to be more engaged in deposits rather than stocks and shares, and prevents deepening capital markets sufficiently. Thereby, policies concerning financial education and financial consumer protection are essential. We believe investors will be able to improve their risk assessment skills and tend towards suitable means of investment for their own circumstances, as financial literacy increases."
Indicating that everyone aspires for development and deepening of capital markets as well as its convergence with industry, Bahçıvan highlighted that their primary need is to have industrialists got close relationship with capital market institutions. Bahçıvan emphasized that industrialists being open to opportunities offered by stock exchange and capital markets provide them with considerable returns.

Bahçıvan underlined that, as ICI, they have a great determination and tenacity to further improve their existing relations with Borsa Istanbul, the strategic partner of the Industry Congresses held by ICI in recent years, and that this will contribute a lot to industrialists and the Turkish economy.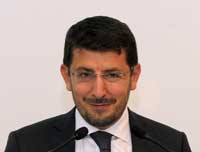 Next, Himmet Karadağ, Chairman of Borsa Istanbul, took the floor to deliver his speech regarding the agenda to ICI Assembly Members. Karadağ said that he's gratified for delivering a speech at ICI Assembly, one of the most-desired platforms to give a speech as Chairman of Borsa Istanbul. He remarked that there has been a constant complaining about not focusing on the right spot during his entire career life, and underlined that trade exchange and capital markets must meet more frequently with industrialists.
Stating that their target group comprises not only the top 10 or 20 members of the ICI 500, but all ICI Members, Karadağ noted that small-scale enterprises outnumber large-scale firms in Borsa Istanbul. Karadağ remarked that Turkey should use capital markets more for sustainable growth and pointed out that they couldn't reached enough number of public offerings in last 4-5 years. Emphasizing that the stock exchange market is directly influenced by political developments, Karadağ noted that Credit Guarantee Fund relaxed financial markets at the beginning of the year.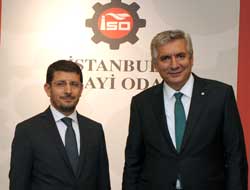 Karadağ pointed out that there is an excess demand on financial resources and loans provided to enterprises by Credit Guarantee Fund don't turn into investment. Having said that banks as the single access channel to financing is of a great risk, Karadağ said that fluctuations in exchange rates have an immense impact on foreign exchange debtors. Karadağ also added that positive and negative development in a firm shapes the value chain. "We made public offering easier for companies, with the change in the listing directive" said Karadağ. 
Karadağ said that they want to provide the right product to right firms, as Borsa Istanbul. Yet, the top 100 companies in ICI 500 are reluctant to enter capital markets because their financial statements are strong. Karadağ revealed that many foreign funds abroad wanted to enter Turkish market aftermath of the referendum but they couldn't find any products.
Stating that they should be able to offer a few new products under suitable conditions each month to attract funds to Turkey, Karadağ emphasized that Turkey needs no additional loans but non-bank financial alternatives. Karadağ added that companies should use stock exchange and capital markets, instead of banks, in meeting their financing needs to ensure sustainable growth in Turkey.

Himmet Karadağ, who also serves as the Deputy Chairman of Turkish Sovereign Wealth Fund, gave some information about the fund as well. Explaining that the founding purpose of Turkish Sovereign Wealth Fund is to provide low-cost funding to Turkey by valuing public assets, Karadağ said that all G20 as well as OECD countries have sovereign funds. Karadağ explained that Turkey has an unmanaged fund of TL 250 billion, including TL 150 billion Unemployment Insurance Fund and TL 50 billion Savings Deposit Insurance Fund of Turkey, and noted that they want to control these funds under Turkish Sovereign Wealth Fund, in order to increase fund inflow to Turkey.
Taking the floor following the speech of Karadağ, ICI Assembly Members took turns to share their views regarding Borsa Istanbul, public offering and industrial corporations using instruments of capital markets. Karadağ also took floor to answer questions from ICI Assembly members.