Austria Ankara Ambassador Dr. Ulrike Tilly Visits ICI Chairman Erdal Bahçıvan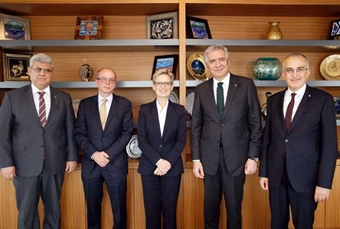 Austria Ankara Ambassador Dr. Ulrike Tilly and Trade Consul Georg Karabaczek visited Istanbul Chamber of Industry (ICI) Chairman Erdal Bahçıvan. During the meeting held in Odakule, ICI Vice Chairman Irfan Özhamaratlı and ICI Deputy Secretary General Haktan Akın were also present.
ICI Chairman Erdal Bahçıvan stated the importance of Austria for Turkey and said that there is a strong and old tie between Turkey and Austria that is hard to be broken. Bahçıvan, who sees the fact that Austria is the third largest investor country in Turkey as a significant evidence of its confidence in Turkish economy, said that such ties are not just limited with economy, but also seen in the fields of education and culture. Naming visa as the most important issue in these relations, Bahçıvan stated that the visa issue period is not standardized yet and thus they expect support. Bahçıvan said that Customs Union should definitely be renewed in a process that can be seen as an important opportunity to improve the economical relations between two countries.
Austrian Ambassador in Ankara Dr. Ulrika Tilly, who will serve as the European Union Term President from 1 July 2018 to 31 December 2018, stated that Turkey is not just important for Austria but the entire Europe. Tilly, who recorded that they are ready to do whatever they can to improve the economical relations further, agreed Bahçıvan on visa issue and said that they are trying to facilitate this process for the Turkish citizens. Tilly added that the Austrian business world shares the same thoughts with them regarding the update of Customs Union.