Bahçıvan: "$500 million trade volume with Pakistan is below the real potential"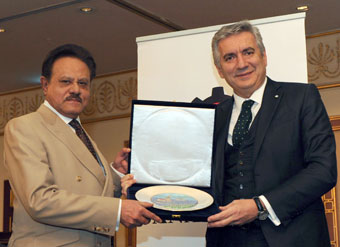 Istanbul Chamber of Industry (ICI) organized a Pakistan Country Day to contribute to the environment of cooperation and investment between Pakistan and Turkey. The event hosted by ICI Chairman Erdal Bahçıvan at Istanbul Intercontinental Hotel addressed opportunities available in Pakistan, a country lately marked by a stabilizing and developing economy, for Turkish industrialists and business people.
Erdal Bahçıvan, ICI Chairman, made the opening remarks, followed by presentations delivered by Dr. Yousaf Junaid, Pakistan Consul General to Istanbul; Hüsnü Dilemre, Acting Deputy Undersecretary at Ministry of Economy; Ayşe Şebnem Türkay, General Manager of Habib Bank Turkey, renowned as the largest bank of Pakistan; and Ömer Bolat, CEO of Albayrak Holding; as well as a panel featuring representatives of companies operating in Pakistan.
Bahçıvan, ICI Chairman, remarked that Pakistan is a special country for Turkey, so much so that, in Turkey, the expression "sister country" recalls Pakistan in the first place. He stated that Pakistan and Turkey were always close and although they shared no border, the long distance between the two countries did by no means pose a threat to their friendship.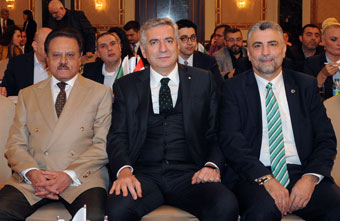 Reminding that the two friendly nations were plagued by similar troubles lately, Bahçıvan expressed that recent violent attacks in Pakistan and Beşiktaş last Saturday had once again revealed the boundless inhumanity of terrorism.
As for the trade trends worldwide, global and regional trade organizations are losing pace while bilateral trade agreements are rising in importance, said Bahçıvan, adding that reviving the lately shrinking global trade calls for producing more, engaging more in economic diplomacy, and further enhancing bilateral relations. Bahçıvan stated that global political uncertainties left all countries with no choice but to increase the number of their export markets and suppliers.
Stating that adding new trade partners and consolidating existing relations was of key importance to Turkey and Pakistan amid the current global trade conjuncture, Bahçıvan stressed that long-time friendships came to gain value more than ever.

He expressed their satisfaction with the solid legal basis in favor of improving Turkey-Pakistan trade relations, and how they consider this basis as an opportunity. Bahçıvan also reminded that the agreements on Commercial, Economic and Technical Partnership, Prevention of Double Taxation, and Mutual Promotion and Protection of Investments were signed and ratified. Bahçıvan continued his remarks: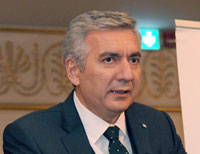 "As President Recep Tayyip Erdoğan remarked last month during his visit to Pakistan, it is pleasing to see the Free Trade Agreement finalized before we enter 2017. Looking at the Pakistan-Turkey economic relations, $500 million bilateral trade recorded in 2016 to date is, in fact, far below the real potential. Turkey is currently home to 158 Pakistan-invested enterprises operating in several sectors, including automotive, electronics, machinery, and banking. This figure will rise as Pakistani companies get more and more familiar with the opportunities Turkey presents. Turkish investors in Pakistan, on the other hand, operate predominantly in durable and fast consumption goods, energy, finance, infrastructure projects and contracting sectors."
Noting that the economic opportunities are mutual, both for Turkey and Pakistan, Bahçıvan described Pakistan as a country worthy of consideration for Turkish industry and economy. Bahçıvan underscored that international organizations and institutions, in particular the World Bank, recognized Pakistan's strategic advantages and development potential, adding that in 2015-2016, Pakistan outpaced the world average in terms of economic growth.
Bahçıvan, informing of the $51 billion infrastructure investment planned between 2015 and 2030 as part of "The China–Pakistan Economic Corridor", interpreted this economic recovery would not only involve China and Pakistan but affect the entire region positively.
The pivotal role of economy and trade in bringing societies and cultures closer together is the strongest driver of long-lasting, durable partnerships, according to Bahçıvan. "I think that being together here is very promising and important. Creating economic value through mutual effort, and enhancing friendship and cooperation among societies would mark a great accomplishment, not only for industrialists but also for the entire country. I would like to emphasize our readiness to engage in common activities with a view to boosting commercial and economic partnerships between our countries. I hope this meeting would pave the way for such fruitful cooperation," said Bahçıvan.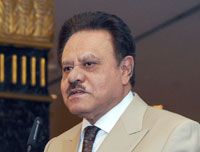 Dr. Yousaf Junaid, Consul General of Pakistan to Istanbul, said that the two countries were going through critical times. Reminding that terrorist attacks had left both countries with deep wounds in the past, Junaid suggested focusing instead on what they could accomplish in the future. Junaid resembled the two countries' amiable relationship not to that of friends, but to sisters. Stating that Pakistan and Turkey had an impeccable political partnership, which spread to social realms and the defense sector, Junaid added that this, however, did not reflect onto the economy. Junaid described the current figures as far from representing the true potential. An improvement is necessary, Junaid said.
Indicating Pakistan, home to a population of over 180 million, as one of the most liberal economies in South Asia, Junaid said that the government of Prime Minister Nawaz Sharif made substantial economic reforms since their taking office in 2013. Junaid spoke of the significant improvements in problems of recent past, such as low growth, budget deficit, inflation and payment imbalance, underscoring that credit rating agencies had increased the country's grade.
Noting that the biggest barrier to economic relations was that the Free Trade Agreement did not come into effect yet, Junaid went on to confirm that both governments agreed on the urgency of finalizing this procedure. Junaid emphasized the adoption of a new economy policy with respect to foreign capital and invited business people to invest in Pakistan and collaborate with their Pakistani counterparts.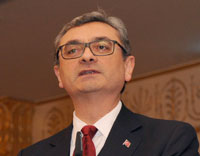 Hüsnü Dilemre, Acting Deputy Undersecretary at Ministry of Economy, also delivered opening remarks. Dilemre noted that Turkey and Pakistan enjoyed strong ties of kinship that dated back to the history. Pointing out that strong political relationships were setting a solid foundation for enhanced trade relations, Dilemre added that it was the role of administrators and businesspeople to build a concrete cooperation upon this foundation. Dilemre stated that the trade volume between the two countries, which hit around $1 billion for the first time in 2011, became approximately $600 million in 2015. Describing the Free Trade Agreement as the pivotal player for developing the bilateral trade relations, Dilemre voiced their willingness to conclude negotiations and implement the agreement in the shortest time.
Dilemre elaborated on the Free Trade Agreement, which, according to him, aimed at free trade by removing the obstacles, not only to goods, but also to services and investments. Underlining that Pakistan, being world's sixth most populated country, stands as one of the leading markets, Dilemre added that there was potential of cooperation in areas such as processed food, electrical household appliances, power supplies, machinery industry and plant installation.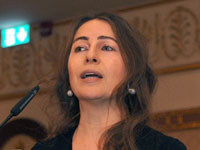 Ayşe Şebnem Türkay, General Manager of Habib Bank Turkey, introduced Habib Bank, operating in Turkey since 1982, as the first and only Pakistani bank with investments in Turkey. Türkay pointed out that the Pakistani economy reached new heights lately, with an average investment-oriented growth of 4.7 percent over the past two years, owing to the particular emphasis on reforms, the deal with the IMF and improvements in public order.
Türkay depicted the country's economy as an extremely liberal one, making room for allowing to found a company without any local partner, transfer abroad 100 percent of the domestic profits, and take loan in foreign currency. She also highlighted that all those reforms were safeguarded by the constitution.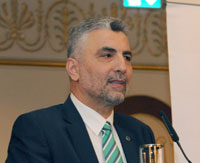 Ömer Bolat, CEO of Albayrak Holding, talked about the holding's past investments and experiences in Pakistan. Underlining the affinity and support between the two countries, Bolat stated that Pakistan received more investments amid an accelerated economic integration. Bolat went on to reveal that Albayrak Holding employs 28 thousand people, 14 thousand of whom working in Pakistan. Referring to their solid waste collection investment launched in Pakistan's Penjab state, he explained that the facilities provided its services via 650 trucks.
Bolat pointed out that, as for the transportation sector, 170 buses serve 550 thousand passengers in a day, and they operate in the metrobus line with 68 vehicles. Depicting Pakistan government as investor-friendly, Bolat expressed that the authorities act in close collaboration while solving problems. Bolat also remarked that Pakistan enjoyed a well-versed and highly qualified bureaucracy.
Following Bolat's speech was the "Opportunities, Problems and Solution Suggestions Faced by Turkish Companies in Pakistan" panel moderated by ICI Deputy Secretary General Haktan Akın. At the panel, Özgür Akyıldız, General Manager of Ontex; Ahmet Yağmur Özdemir, Deputy General Manager at Zorlu Energy Group; Atilla Demir Yerlikaya, Corporate Affairs Director at Coca Cola and President of the Turkey-Pakistan Business Council under the Foreign Economic Relations Board; Mustafa Rıza Arsan, Managing Consultant of the STFA Construction Group, and Özkan Çimen, Corporate Risk Director at Arçelik shared their business experiences in Pakistan. Later on, at the Q&A session, participants found the opportunity to seek answers to their questions regarding Pakistan.