Consul General of Kazakhstan to Istanbul Visits Chairman of the Istanbul Chamber of Industry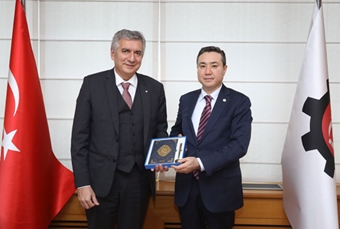 Yerkebulan Apiyev, Consul General of Kazakhstan to Istanbul, along with Nuriddin Amankul, Representative of Turkey at the Ministry for Investments and Development of the Republic of Kazakhstan, paid a courtesy visit to Erdal Bahçıvan, ICI (Istanbul Chamber of Industry) Chairman. During the meeting held at the ICI main building to address room for improvement in bilateral trade and investment relations, ICI Chairman Bahçıvan stated that Kazakhstan, which he described as a sister country, is of significant importance to Turkey, and ICI introduces countries embodying new opportunities to its members. Bahçıvan added that these efforts delivered for both Turkish industrialists and the promoted country, and they were looking at a possible partnership with Kazakhstan.
Consul General Apiyev underscored that Turkey was more than a friendly country but sister to Kazakhstan. Consul General Apiyev noted that 38 Turkish investors established facilities in Kazakhstan over the last 25 years of the independent Kazakhstan, stressing that they expect more investments from Turkey. The meeting featured an agreement on organizing a "Country Day" in the near future, to focus on potential opportunities in Kazakhstan for ICI members.
Another issue brought up was arranging sectoral committee visits to Kazakhstan, for sectors to be specified later, and making the required contacts on materializing those visits in the upcoming period.