Courtesy Call by Sfari, Consul General of Israel in Istanbul, to ICI Chairman Bahçıvan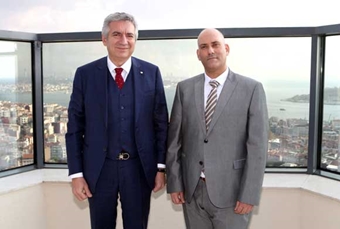 Yosef Levi Sfari, the new Consul General of Israel in Istanbul, and Monir Agbaria, the Commercial Attaché, paid a courtesy visit to Istanbul Chamber of Industry (ICI) Chairman Erdal Bahçıvan. During the visit focusing on economic relations, Erdal Bahçıvan, ICI Chairman, wished Sfari success in his new office.
ICI Chairman noted that bilateral commercial and economic relations make sustainable progress. Referring to the May event "The Israeli Experience in Technology Development and Partnership Opportunities" held by ICI and Consulate General of Israel, Bahçıvan said that they then yielded highly efficient outcomes, and suggested new thematic fields of cooperation such as digital economy and industry 4.0. Bahçıvan stated that sector-oriented partnerships in textile, food, machinery and electronics could be an option as well, the first example being ICI's upcoming visit to Israel in January 2018: "ICI Delegation Visit for Underwear Industry". Agriculture and husbandry were also among the sectors presenting significant partnership opportunities for Turkey and Israel, according to ICI Chairman Bahçıvan.
The new Consul General Sfari, who formerly served in Ankara, indicated that he returned to Turkey at his own request and expressed satisfaction over being in Istanbul. Yosef Levi Sfari said that Israeli exports to Turkey were material before, but with the emergence of bilateral imports and exports over time, the expansion of bilateral trade volume gained prominence. With this developed bilateral trade, the people of Israel gained access to quality products of Turkey, and Israel had the chance to convey to Turkey its experience and know-how on value-added products and manufacturing, stressed Sfari.