Courtesy Visit from Ethiopia Consul General Gebremichael to ICI Chairman Bahçıvan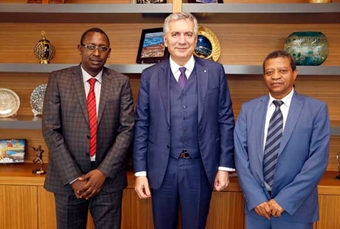 Federal Democratic Republic of Ethiopia, Istanbul Consul General Wondimu Gezahegn Gebremichael and Deputy Consul General Hassen Mussa Atiyb paid a courtesy visit to Istanbul Chamber of Industry (ICI) Chairman Erdal Bahçıvan.
During the visit held in Odakule, ICI Chairman Erdal Bahçıvan stated that the relations of Turkey with African countries improve everyday and Ethiopia is an important country in this scope. Bahçıvan, who attracted attention to the fact that the trade volume between these two countries constantly increases, underlined that the current volume is still lower than the actual potential. Bahçıvan recorded that Ethiopia is one of the few African countries to open a consulate general in Istanbul, and that this can create a synergy to trigger the trade with Africa.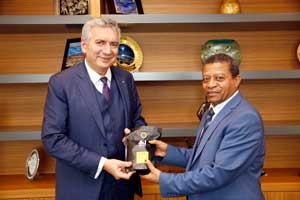 Ethiopian Consul General Gebremichael stated that their main goal in this visit is to improve the trade volume between Turkey and Ethiopia. Gebremichael said that there are important opportunities in the fields of textile, leather, agricultural food, energy and mining in Ethiopia and also important incentives offered to the investors in the new established industrial regions besides the significant trade improvement opportunities provided by COMESA (Common Market for Eastern and Southern Africa) that Ethiopia was a member of. Gebremichael stated that universities graduate 500 thousand young Ethiopians every year, and thus their country has the sufficient work power for these investments. During the visit, wishes were made to sustain the communications between organizations in order to achieve the desired level in trade and investment between two countries.