Cuban Delegation that is in Turkey Visits Istanbul Chamber of Industry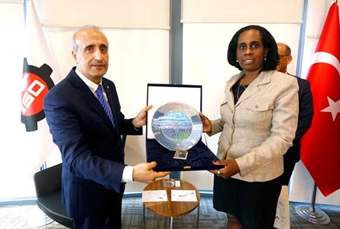 Cuban Delegation holding talks in Turkey to discuss mutual economical cooperation opportunities visited Istanbul Chamber of Industry (ICI). The delegation led by Ileana Nunez Mordoche, Cuban Vice Minister for Foreign Trade and Investment, was welcomed in Odakule by Bekir Yelken, ICI Board Member. In the meeting where Cuba Ankara Ambassador Luis Alberto Amoros Nunez was present, ICI Board Member Erman Atasoy was also present.
ICI Board Member Bekir Yelken, who made a speech in the meeting, stated that the recent wind of change in Cuba attracted the attention of the whole world. Recording that Cuba has been improving its private sector in a rapid yet controlled manner and creating a positive environment for foreign investments with the contribution of the positive developments in USA-Cuba relations, Yelken mentioned that the Turkish-Cuban relations that celebrated their 65th anniversary last year is way below the level that it is supposed to be in the economical sense. Reporting that the export to Cuba is 20.4 million dollars and import from Cuba is 13.5 million dollars as of 2017, Yelken expressed their belief that the foreign trade volume around 34 million dollars will increase in the following years as a result of these positive developments.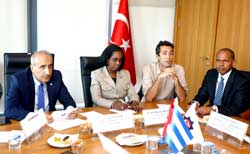 Attracting attention to the global recognition of the Cuban achievements in the fields of medicine and biotechnology, Yelken told that the vaccines, drugs and treatments developed for the treatment of diseases such as cancer and diabetes have great potential in Turkey. Yelken stated that it is very important for the two countries to cooperate in this industry.
Stating that Cuba has many projects open to investments in tourism and energy industries, especially regarding real estate and infrastructure besides the health industry, Yelken said that there are opportunities for Turkish engineers and firms operating in the construction industry. Mentioning the 20 thousand Turkish tourists visiting Cuba that has a huge potential in the tourism industry with the number of tourists that doubled in the recent years thanks to new direct THY flights to Havana, Yelken stated their belief that these two countries may realize these cooperation opportunities in the best and fastest manner, and the scope of their economical cooperation may rise to levels corresponding to the depth of their relations and the spirit of their friendship.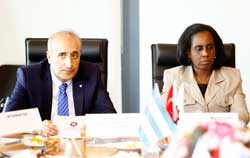 And Ileaan Nunez Mordoche, Cuban Vice Minister of Foreign Trade and Investment named the main purpose of their visit as improving the economical relations between Turkey and Cuba. Mordoche stated that they are representing various industries and Cuban government believes in the necessity of improving relations with Turkey and is ready to make any effort to achieve this. Mentioning Turkey's position among the top 20 economies of the world and its importance for them, Mordoche stated that they had taken steps for this purpose this year.
Mordoche stated that the Turkish products that enter into Cuba came from other countries and mainly from EU. "We want to eliminate the intermediaries and cooperate directly with you." said Mordoche. "Economical reforms had been initiated to encourage foreign investments. Even though there are representatives of more than 600 foreign companies, 35 companies in the private investment zone and 300 direct foreign investments, none of these are Turkish. We want to change this. We want to establish a strong relationship between two countries. Our priority is the health industry. Moreover, we purchase food, iron and steel from Turkey. We had established a private economical zone and provide incentives, ease to many foreign investors here." said Mariel.

Cuban firms representing the private industry in the delegation introduced themselves in the meeting and provided details about what they want to import from Turkey. The representatives in the delegation stated that they need fertilizers, food, steel, rubber, white goods, small home appliances, solar panels and seeds.
The delegation included the following names: European Director of Foreign Trade and Investment Ministry - Inalvis Bonachea, General Secretary of Cuban Chamber of Commerce - Omar de J.Fernandez Jimenez, Manager of SMS and Cuban Medical Services Company - Eskaterine Urgelles, President Consultant of BioCubaFarma Holding - Augustine Lage, Representative of Tourism Ministry & Vice President of CUBANACAN - Jorge A. Garcia Dominguez, GECOMEX Trade Director - Loretta Blanco Martin, Vice President of GEDIC - Armando Posada Loriga, Engineering Director of GEDIC - Normando Herrera Hernandez, Manager of IRC Organization of Ministry of Industry - Jose Ramon Rojo.