Delegation from Cologne Calls for more Turkish Investments in Germany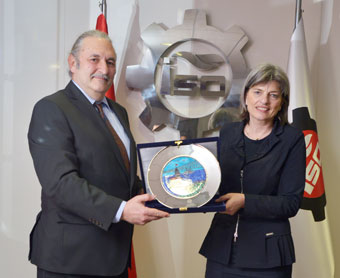 A delegation of high-level officials from Cologne, including representatives from the City of Cologne and Cologne Chamber of Commerce and Industry, visited Istanbul Chamber of Industry to explore avenues for increased cooperation between the two countries. The delegation was received by Ali Eren, Member of the ICI Board of Directors.
The delegation was led by Ute Berg, Deputy-Mayor for Economic Development and Real Property of the City of Cologne, who noted that the city was home to 85,000 Turkish expatriates, 2,500 of whom are entrepreneurs, and mentioned the Bosphorus Shuttle project introduced in June. Ute Berg noted the positive impact of the project on trade connections between Cologne and Çerkezköy, and announced plans to visit Istanbul in April to initiate establishment of a Turkish-German university.
Ute Berg highlighted mutual investments between Cologne and Turkey, calling on Turkish investors to invest more in the Cologne area, and to contact the official Turkish-German help desk of the City of Cologne to seek assistance for any problems they might encounter.
Delivering a speech in the meeting, Ali Eren, Member of the ICI Board of Directors, noted the deep-rooted collaborations between the Cologne Chamber of Commerce and Industry and ICI, highlighting ICI's status as a member of the Turkish-German Chamber of Commerce. Ali Eren also stressed that, although the institutional cooperation served as a good starting point, it should be expanded into commercial and investment collaborations between the members of the two organizations.
The meeting also discussed avenues for close cooperation between Turkish and German enterprises as well as potential joint efforts for strengthening bridges between the businesspeople of the two countries.