Economic Development Foundation Celebrates 50th Anniversary with President Recep Tayyip Erdoğan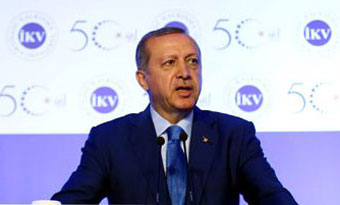 On the occasion of its 50th anniversary, Economic Development Foundation (İKV) organized a meeting entitled "50th Year in Turkey-EU Relations" on May 9, Europe Day. Hosted by İKV Board of Directors Chairman Ömer Cihad Vardan in Levent Wyndham Grand Hotel, the meeting was held in the presence of President Recep Tayyip Erdoğan and Minister for European Union Affairs and Chief Negotiator Volkan Bozkır.
Other participants in the celebration were President of TOBB (Union of Chambers and Commodity Exchanges of Turkey) M. Rifat Hisarcıklıoğlu and prominent figures in politics, business and non-governmental organizations as well as senior representatives including chiefly Erdal Bahçıvan, Chairman of the Board of Istanbul Chamber of Industry (ICI). Also present were ICI President of Assembly Zeynep Bodur Okyay, ICI Vice President of Assembly İsmail Gülle, ICI Vice Chairman of the Board İrfan Özhamaratlı, ICI Board Member Sadık Ayhan Saruhan, ICI Secretary of the Assembly Serdar Urfalılar and numerous ICI Assembly members. The results of the poll that researched support for the EU among Turkish society and opinions of the public were announced in the meeting.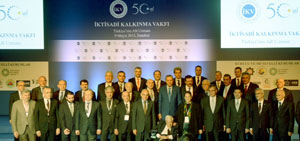 During his speech at the event, President Recep Tayyip Erdoğan called for a consideration of Turkey's EU membership in a different perspective and a need for the EU and Turkey to cooperate in the face of increasingly growing regional threats. Erdoğan emphasized that the EU needed Turkey more than ever and referred to Turkey as a masterpiece of peace in economic and political stability. His remarks were as follows: "Despite all of the problems with our neighbors, we continue to grow as a country. Meanwhile, the EU is constantly getting weaker. Security of Europe doesn't start at our western but eastern borders. Turkey is the key to not only EU's political but economic stability."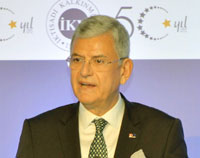 EU Minister and Chief Negotiator Volkan Bozkır noted that the EU negotiation process was no longer an issue of economic reform only, underlining that Turkey is in a better condition than twenty two out of twenty eight EU member states. He stated that Turkey introduced reforms compatible with Copenhagen Criteria, adding in his remarks: "We want to reach customs union worthy of three hundred billion dollars."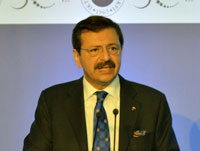 In his speech at the meeting held on May 9, Europe Day; TOBB President M. Rifat Hisarcıklıoğlu gave the following remarks: "Our view of the EU is based on the win-win principle. All the segments of the society will be winners in this process. We as TOBB have been owning up and supporting İKV's vision for fifty years. Turkey meets the Maastricht Criteria, while many EU countries fail to do so." TOBB President Hisarcıklıoğlu emphasized the need to conclude the visa exemption negotiations, referring to visa restrictions as unacceptable.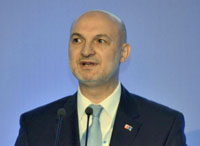 In his opening speech at the meeting, İKV Chairman of the Board of Directors Ömer Cihad Vardan announced the results of the public opinion poll that analyzes the support of the Turkish public on Turkey's membership bid to the EU. The poll also aims to find out the level of awareness and knowledge on the EU across Turkey. Vardan's remarks were as follows: "Four out of five respondents say that they have heard of the EU before, whereas eighty five percent of all participants have 'little' to 'no' knowledge of the EU. This situation indicates a general lack of knowledge of the EU among the Turkish society. In terms of geographic distribution, knowledge of the EU gradually decreases from the west towards the east of Turkey. Additionally, the young population demonstrates a higher awareness of the EU, with a decrease in the level among older population."