Global and Turkish Economy Discussed at ICI's November Assembly Meeting
Istanbul Chamber of Industry's (ICI) November ordinary Assembly meeting, whose main agenda item was "A Glance to the Global and Turkish Economy as We Near the End of 2017", was held on 22nd of November 2017, in Odakule. Assembly meeting, chaired by the ICI Assembly Chairwoman Zeynep Bodur Okyay, was also attended by the President's Chief Advisor Associate Professor Hatice Karahan and ICI Advisor Dr. Can Fuat Gürlesel.
At the November ordinary meeting of the ICI, Erdal Bahçıvan, the ICI Board Chairman, pointed out that the real sector had over 210 billion USD net foreign exchange open position and said: "It's imperative to protect our industrialist against the FX rate so they continue contributing to investments, growth and employment. We can't expect the Central Bank to solve all problems."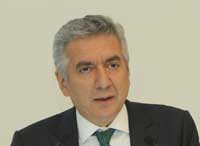 ICI Chairman Bahçıvan commented on the CGF which was regarded as financial innovation this year by businesses: "We reached a consensus with the Turkish Banks Association Board that the CGF should be a permanent institution and should be turned into a more production and investment focused structure and that we should have a common understanding on these topics."
Istanbul Chamber of Industry's November Assembly meeting was opened by the Assembly Chairwoman Zeynep Bodur Okyay. Okyay, in her opening speech, made the following evaluations on the agenda:
"We, as industrialists believe in the objective of Turkey to become a strong economy with high competitive edge based on a sound democracy, social development and inclusive growth model and we work to serve this objective. We are aware that, in this journey, our country has many significant structural problems, but she also harbors huge opportunities. In the year 2000s we grew our economy quantitatively, today we are striving to increase the quality. In order to accomplish our objective of being one of the top ten global economies, we have to solve our problems and be transformed in a period where geopolitical risks are rising, new types of cold wars are emerging in different geographies and in a climate of dystopia."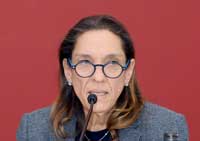 Looking at global politics, when it comes to international relations, countries started to build walls instead of bridges. Furthermore, the number of actors strengthening in international platforms is increasing compared to the past. It becomes more difficult to predict developments. In such an environment, protectionism in trade, populist discourses and introvert policies get stronger. In a nutshell, by no means it is an easy environment to operate in. At this time when the global economy is rapidly re-shaping and the the previous global production hubs are changing, by changing the quality of of our production and aiming for global-scale projects to stay within the radar of the world it is possible for us to create a new center of attraction."
Following her speech, ICI Assemble Chairwoman Zeynep Bodur Okyay invited ICI Board Chairman Erdal Bahçıvan to the stage to deliver his speech. Bahçıvan listed the many uncertainties and vulnerabilities that the world is currently facing: geopolitical risks, over indebtedness, deterioration in income distribution, protectionist trends, environmental issues, sustainability and inclusiveness of growth. Bahçıvan said that geopolitical risks were the most concerning risk group, demanding a lot of attention and focus. He also remarked that those risks are intertwined with economic risks in a way that cannot be separated from one another and reminded that the tension in Asia-Pacific region causes sudden impact on global economy whereas the never-ending conflicts and stress in Middle East results in security concerns and rising energy prices, that particularly interest Turkey. Bahçıvan also talked about the newly emerging geopolitical risks in near by geographies and how the tension between Saudi Arabia and Iran has augmented, posing the risk to affect the surrounding countries.

Bahçıvan stated that one of the most important risks was the FX rate spikes that also closely concerned the economy and that the spikes of the last couple of weeks have been unsettling for the private sector. He underlined the net FX open position of the real sector exceeded 210 billion USD creating a serious balance sheet risk and that it was imperative to protect our industrialist against the FX rate so they continue contributing to investments, growth and employment." 
Bahçıvan pinpointed Central Bank's measures to alleviate the real sector's FX rate risk; however, that it would be wrong to expect the Central Bank to come up with all solutions. Bahçıvan explained how final foreign exchange value, in the long term, is driven by macroeconomic indicators such as, by inflation, debt, growth, and real interest and that for the real sector preserving financial stability is equally important as sustaining high growth. 
In his speech, Bahçıvan also talked about the Credit Guarantee Fund (CGF), launched as an innovation in 2017, and how it prevented the stress between real sector and financial institutions by removing the collaterals. Furthermore, mentioning the meeting held between the Turkish Banks Association Board and the ICI, Bahçıvan expressed that they reached a consensus on the fact that CGF should be a permanent institution and should be turned into a more production and investment focused structure and that a common understanding should be developed on these topics.
Bahçıvan continued: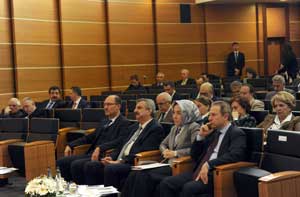 "Turkey deserves more than she has right now because we believe in the high potential of our country. I wholeheartedly wish that our economy in 2018 will become more productive, efficient and stronger and that we see all together the return of our flourishing hopes. At the same time, I would like to emphasize how meaningful and valuable it is to restore a peaceful, stable Turkey that preserved its domestic peace for us, for the region and for the entire world."
Erdal Bahçıvan was followed by the President's Chief Advisor and ICI Advisor Associate Professor Hatice Karahan who started her speech by praising the successful performance of the Turkish economy after the 2008 crisis. She pointed out that real GDP grew by 7.4% in the period of 2010-2016 and that FX movements have slightly slowed down the increase. Karahan, mentioning that Turkey has exhibited a tempo well above the other emerging economies, talked about 2017 as being a recovery year after the slow down in 2016. According to Karahan, this quick recovery has proven the resilience and flexibility of the Turkish economy and that the content and the sustainability of the growth mattered. 
Karahan reminded that in the past couple of years Turkey did not receive any support vis-à-vis export demand from external markets, while in 2017 the support turned to positive. Karahan talked about how household and private consumption helped the economy to stand on its feet in the previous period, however, that today it was also supported by the recovery in global trade. Karahan said that in 2017 economic confidence index rose and that the loan growth achieved with the CGF also positively contributed to growth.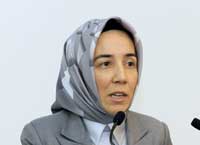 Karahan stated that in 2017 the number of companies has increased and that it was not so easy to overcome unemployment and that despite the fact that new jobs are created, because of the demographic growth the unemployment, wandering around 10%, could not be reduced any further. Karahan also commented on the inflation increase and said that the increase we were facing was not only based on demand but also on the FX rate and that both headline and core inflation approached 12%. She expressed that apart from the energy prices, the volatility in rates also put an inflationist pressure on the economy. Karahan said that the biggest risk on this topic would be the deterioration in the behaviors of price makers. She explained that when price makers are not convinced about the Central Bank's inflation targets, they might, retrospectively or prospectively, increase the inflation and that this would put the inflation in a vicious circle; thus the Central Bank's policy, stance and communication played a highly significant role. 
Karahan, referring to the downside trend in current account deficit in the last years, said that the ratio of current account deficit to GDP regresses to 4-5% corresponding to 39,3 billion USD. Strip out the effect of energy, it comes down as low as 9,4 billion USD, she said and continued talking about the national energy investments that will ease our outside dependency on energy. She announced that the rising energy prices were somewhat compensated with the recovery in hospitality sector and that the number of tourists in 2017 saw an increase following the backslide in 2015 and 2016. 
Karahan touched on the 10.3% increase in exports in January-October period, alongside the 16.5% rise in imports, which is primarily affected by energy and gold prices. Karahan underlined the importance of diversifying exports and that Turkey ranks high in the world when it comes to market and sector diversity. Karahan indicated that while in the past Turkey was strong in the areas of clothing, fresh fruits, cotton, iron, steel and rubber, now, for the last couple of years, it expands its relative superiority in the areas of motor vehicles, aluminum, plastic, furniture precious metals and stones. 
Karahan disclosed the steps that the Turkish economy should take: producing local energy, advanced investing with a focus on technology, improving the business climate, increasing savings, strengthening capital markets and implementing labor force reforms. Karahan also touched upon this year's modest decay in fiscal discipline, and commented that it was still under the Maastricht Criteria's 3%. Karahan furthermore said that fiscal discipline was one of the most important pillars of the trust towards Turkish economy so the current low level should be maintained. Karahan highlighted that the key for Turkey to achieve its objective was industry.
ICI Advisor Dr. Can Fuat Gürlesel was invited to the stage following Karahan to address the Assembly Members. Can Fuat Gürlesel stated that the global economy entered a growth period which they expected to be balanced and permanent. Gürlesel explained the two critical growth attempts after the global crisis; first one during 2010-2011 when the prices of financial assets were tried to be pushed up and the second one in 2013-2014 when this time the concentration was on the commodity prices. According to Can Gürlesel both growth attempts failed; however, it seems that the world attained a permanent growth level in the years 2017-2018.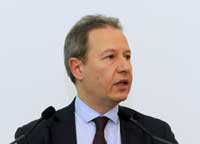 As the manufacturing PMI numbers indicate for the global industry, there is progressively strengthening recovery and a new industrialization era began after the global crisis, said Gürlesel. Expressing that developed countries started to bring industrial production back to their countries and localize their supply chains, Gürlesel pointed out that manufacturing PMIs in USA, EU, Japan and China are at record levels.
Gürlesel told that global industrial production index accelerated after 2010 and global non-industrial goods export price index also saw an increase, which are signs of picking up demand and growth expectation for global trade. According to Gürlesel, 2018 forecasts are much optimistic and that they expect to see a more rapid growth, which may be hindered by geopolitical risks; however, that those risks remained manageable so far. 
Gürlesel listed the sectors whose industrial production increased as furniture, electronics, computers, motor land vehicles, oil refinery products as well as machinery and equipment and also remarked that the export od industrial products also rose by 12.8% in the first ten months of 2017. Moreover, Gürlesel talked about the fact that per kg price of industrial products are also increasing and that 29.4% rise in intermediary product imports can be considered as a sign that industrial production will continue to be up. Gürlesel went on to explain that industrialists were facing cost pressure resulting from inflation and FX rates and that businesses should take this into account while preparing their budgets.
On another front, Gürlesel commented on the Turkish economy saying that he was not so optimistic and that action was taken to eliminate the decayed domestic economic balance after the 15th of July. Gürlesel told that these actions were right; however, these were inflationist policies and should be stopped after a specific period of time. He said that the policies continued with an increasing pace and an inflationist growth policy was implemented and in this case the Central Bank also should have have adopted a tight monetary policy. Gürlesel revealed that with the concern that economic recovery will continue, inflation surges. Gürlesel also mentioned the increase in the budget deficit and that we entered a period where FX rate and inflation are feeding each other. Gürlesel summarized the economic outlook, underlining the need for radical measures.
After the speakers, ICI Assembly members also took stage to express their opinions on the agenda.