ICI Assembly Convenes for Respect for the Will of Nation and Unconditional Upholding of Democracy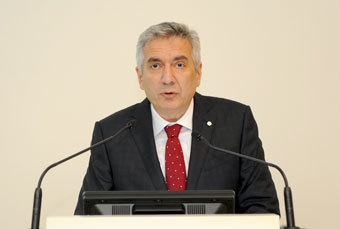 The ordinary assembly meeting of Istanbul Chamber of Industry (ICI) was held on July 20, 2016 under the main theme "The Role of Respecting the Will of the Nation and of the Unconditional Upholding of our Democracy, for our Nation, Country, Business World, and Industry" with reference to the coup attempt of July 15, 2016. Due to the key nature of the agenda, the Assembly's July meeting chaired by Zeynep Bodur Okyay, ICI President of Assembly, saw participation of ICI Sectoral Committee members as well.
In the meeting, which opened with a moment of silence and the Turkish National Anthem dedicated to those who lost their lives during the coup attempt of July 15, Erdal Bahçıvan, ICI Chairman said that the people would not forgive perpetrators of the coup attempt which would take Turkey back for tens of years, and added: "Any unlawful and undemocratic act such as coup will throw us into nothing but a turmoil. Democracy is the best way to drive Turkey's development and economic improvement".
"The devil loves to fish in troubled waters. Thus, we are going through a period where the risk of provocations is high. Any step we take must be with calm and reason." Bahçıvan stressed, on the other hand, that the night of July 15 also instilled hope, pulling us from darkness into light. "We must restrain from saying or doing anything that may harm the trust in the Turkish Armed Forces (TSK), the pride of our nation. We must continue the unity, and solidarity embraced by all of us today. Having taught a lesson on democracy to the world, Turkey is by no means a third world country but a regional and global power with its democracy, strong economy, deep-rooted values, and well-established institutions," noted Bahçıvan.
In her opening speech, Zeynep Bodur Okyay, ICI President of Assembly referred to the key role of the democracy as well: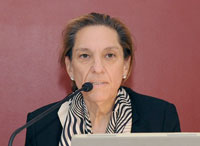 "In the evening of July 15, this country woke up from a nightmare into the light of democracy. The unyielding stance of our politicians, media organs, civil society, and the nation set an example to the world. Democracy has not been achieved overnight. In fact, this country has suffered a lot throughout. Each attack we have survived has helped us further appreciate the value of democracy. This attempt against democracy has been repulsed by the state and the people upholding the will of nation. In a typical democracy, national income per capita is 20 percent higher than that of another form of government. Our country's pace of development has peaked in the democratic era, whereas each coup hindered everything of Turkey's richness, heritage. Hence, the 15th of July will be remembered as the day our nation turned the tide. We must reverse the foreign investors' negative perception of this petty attempt. Turkey has a large and strong economy."
Taking the floor next to speak on the main agenda item was ICI Chairman Erdal Bahçıvan, who stated that the attempted coup of July 15, organized and plotted by the illegal organization known as the "parallel state", had left a mark of shame on the history of democracy in Turkey, shaking everyone to the core. Noting that they witnessed relentlessly dishonorable acts as aircrafts bombed the Turkish Grand National Assembly (TBMM) and shot at defenseless civilians, Bahçıvan expressed his sorrow: "I wish a quick recovery for our valuable nation and for all of us. Bahçıvan continued his speech as follows: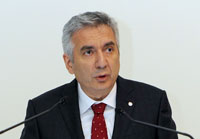 "May our martyrs of democracy, who heroically sacrificed their lives in defense of the will of the nation against this traitorous and unlawful attempt, rest in peace. My sincere condolences are with our nation, especially with the families in grief, and I wish a fast recovery for the veterans of this battle of democracy. On the night of July 15, Recep Tayyip Erdogan, President of the Republic; Binali Yıldırım, Prime Minister; the Government, all political parties, state institutions, labor and employer organizations, non-governmental and sectoral organizations, and media that took a brave and determined stand by saying "No to Coup!" in consideration of our country's present and future, as well as the Turkish Armed Forces that acted in hierarchy and the Turkish Police that put in dedicated efforts have served each and every member of the society. In fact, that night marked one of the most glorious victories in our history of democracy, won altogether, hand in hand.
From the very first hours of the illegal coup attempt, the Istanbul Chamber of Industry took sides with democracy, the will of nation, and the elected Government, without any hesitation. We have utterly and completely denounced the coup attempt via printed and visual media. We also brandished our national flag on the facade of our Odakule building, as a symbol of unity and solidarity. But it was not enough, for sure. Indeed, on Monday, we published a joint declaration condemning the coup attempt at a press conference held in partnership with presidents of 12 non-governmental business organizations under the name of 'July 15, from darkness into the light'. In addition, at 11.00 AM yesterday, we publicly announced the declaration by the Union of Chambers and Commodity Exchanges of Turkey, ICI's umbrella organization through all our chambers across Turkey.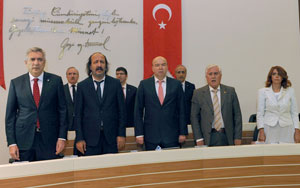 And today, we gathered here to pay respect for the will of nation and to show our readiness to uphold the democracy, without any reservation or hesitation. I strongly believe that you, distinguished assembly members, would help us leave these difficult times behind by sharing your precious views on this floor, as well."
Describing the night of July 15 as the longest, most difficult, and painful night in recent history of Republic and democracy, one they would not even want to remember, Bahçıvan said that the said cursed night witnessed horrible scenes in which one brother shot another, and many innocent children, young and elderly lost their life for democracy. ICI Chairman continued his remarks:
"As I mentioned earlier, we have witnessed the Turkish Grand National Assembly, which has the principle 'Sovereignty unconditionally belongs to the Nation' written on its wall, bombed by this very nation's aircrafts. Our assembly, holder of the title "veteran" as a survivor of the Turkish War of Independence, is a reputable institution that has laid the foundation for the Republic of Turkey and represents the will of the nation. The Turkish Grand National Assembly is also the sole legitimate place to solve problems.
With this vision in mind, we condemn harshly and vehemently those against the will of nation, who aim to destroy the nation's indivisible integrity, bombing the Turkish Grand National Assembly and opening fire on citizens.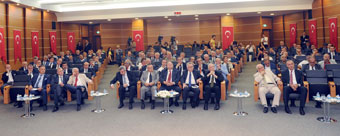 The prime target to destroy that night was the will of nation and democracy. Fortunately, our nation's noble standing and admirable solidarity between public institutions beat down this unforgivable incursion.
Our people, acting with knowledge, experience and insight inherited from our thousand-year survival on this sacred land, took sides with the state and the elected government. With its exemplary behavior in upholding the democracy, our nation transformed the July 15 darkness into seeds of hope. And it was far from being easy as our people showed great patriotism at the cost of their lives.
Our people's commendable efforts to preserve the democratic system in full function serve as a lesson for the whole world. However, we should communicate it to the world with the right approach. This represents a great opportunity and advantage for us in terms of our economy and national image."
Bahçıvan also mentioned the importance of domestic economy throughout this process and told: "Having taught a lesson on democracy to the world, Turkey is by no means a third world country but a regional and global power with its democracy, strong economy, deep-rooted values, and well-established institutions. Turkey is the world's 18th biggest economy. Last year, it hosted a G20 summit, which is a major platform in terms of global decision-making. Turkey has been a key NATO partner for long years. It became a member of a series of international institutions such as the European Council and OECD as soon as they were founded. Turkey achieved great progress in terms of its accession to the European Union. There are many international companies based in Turkey. Our homeland has created well-recognized brands and boasts international achievements in a wide range of fields. Most importantly, Turkey is a model country with its well-educated labor force, entrepreneurship, and the private sector." Bahçıvan continued his speech as follows:

We did not and we will never let such a powerful and promising country succumb to such obsolete practices. I would like to stress it particularly. This nation will never forgive the perpetrators of that bloody attempt that might spoil the industrious acquisitions of many decades and strike a blow to our society's prosperity and well-being.
At this point, I would like to point out another significant matter: Problems must be exclusively resolved within the framework of law and democracy. Only those decisions made by a government that relies on the nation's free will for its power and authority can be legitimate and valid in the eyes of the citizens. Any pursuit outside the law and democracy, such as coups, will lead us to chaos only. No coup has ever contributed to our country, and none will do.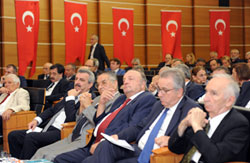 We have always believed in this: The best path for Turkey to develop and our economy to thrive is the path of democracy. Democracy is the least bad mode of government available around the world. It would be to the best interest of everyone to seek solutions to the problems of democracy within the framework of democracy.
Turkey has been familiar to the bitter experiences associated with coups. We sadly observed that our country lost both social and economic acquisitions of decades after every coup that stroke a blow to our democracy. All social segments within the Turkish society and economy paid dearly for the undemocratic interventions and e-memorandums witnessed for the first time in 1960 and then 1971, 1980, 1997, and 2007. We still remember those times when our economy was subject to an interruption, investments came to a full stop with a spoiled investment environment, and poverty arose.
Sad but true: Military coups throughout our political history have played a key role in leaving Turkey outdistanced by the countries that had been poorer than us in the past. However, each military government was followed by a civilian government in which the national manifested. Nevertheless, it took years for us to compensate the time lost under military governments before they were substituted by civilian governments. As the press release issued by our umbrella organization, i.e. The Union of Chambers and Commodity Exchanges of Turkey (TOBB), suggests, 'We exist as long as our state and country continue to exist. We all exist if democracy does.'"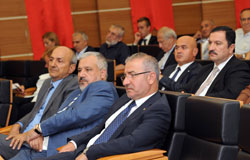 Bahçıvan reminded the participants of the difficult and rough period we have been through and said: "The devil loves to fish in troubled waters. Thus, we are going through a period where the risk of provocations is high. Any step we take must be with calm and reason. Citizens should avoid any behavior to jeopardize their security of life and property as well as others' and be careful not to be carried away by any provocative call or incitement. On the other hand, we should also avoid any expression or behavior that would damage the confidence in governmental institutions, particularly in the Turkish Armed Forces, which is the apple of our eye.
Bahçıvan further said that we should demonstrate an equal level of awareness for economy and production, and he emphasized that we should not let the economy be shaken by irrelevant concerns.
Bahçıvan continued as follows: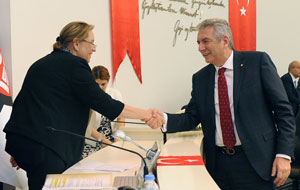 "Instead of acting on a short-term basis with a view to limited personal interests, we must provide our business circles with new medium- and long-term perspectives with high hopes for the future. In this sense, it is pleasing for us to see that the rapid actions taken by our Government have prevented an atmosphere of panic in markets. As those actions exercise their effect in the short-run, it is equally important to minimize any likely negative impact in the medium- or long-run. I sincerely believe that the Turkish Government will demonstrate a continuous, careful, and delicate economic management to this end. Having expressed my belief, I would also like to emphasize the commitment and determination of Turkish industrialists, entrepreneurs, and business circles to stand with the national government. In short, let us always be one and sharp."
Bahçıvan told that we should trust in future and bring the country back to life stronger than ever. Bahçıvan: "Industrialists should not fall into despair but focus on production, exports, and investments. Every crisis brings about an opportunity. This process offers us a chance to check up on ourselves by learning our lessons from the recent tragedies. We must turn the powerful atmosphere of national unity that emerged out of this process into a new opportunity and utilize its momentum to create an exemplary new story of success. Although we have been through a bitter tragedy, we managed to stand together and unify our hearts around a powerfully growing commitment to our country. No matter our political views, the unity and solidarity we formed against those who intended to threaten the national will and democracy must continue with the same force. We, the industrialists, will keep producing with a much higher enthusiasm and resolution than yesterday. I sincerely believe that Turkey and the Turkish private sector will leave this crisis behind with growing power. Let us not ever forget the grave threat we avoided. We should appreciate democracy more than ever and adopt a more uncompromising and firm stance than ever to protect it."
Bahçıvan concluded his words as follows: "May God keep our nation from such foul, tragic and difficult times in the future. Let us always maintain our hope for and belief in a bright and grateful future for our homeland. As I conclude my words with those wishes, I would like to re-express my respect and care for you."
Taking the floor after the ICI Chairman Bahçıvan, the Members of the Assembly shared their feelings and opinions about the importance of democracy in the face of the attempted coup.