ICI Board Joined 37 Consuls General at Friendship Lunch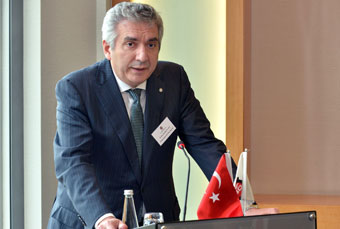 ICI Chairman Erdal Bahçıvan joined consuls general of 37 countries at a lunch event during which he stated: "The goods of our industrialists are entitled to free movement. Industrialists themselves should be able to obtain multiannual and multi-entry visas to EU countries for business trips with minimum bureaucratic requirements."
Istanbul Chamber of Industry (ICI) board met Istanbul Consular Corps (ICC) for the first time to discuss activities aimed at boosting commercial and economic cooperation. Consuls general of 37 countries attended the meeting hosted by ICI Chairman Erdal Bahçıvan and sponsored by Ambassador Kenan İpek, Istanbul Representative of the Ministry of Foreign Affairs.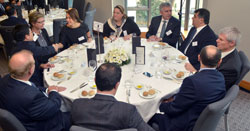 Also present at the meeting were ICI President of Assembly Zeynep Bodur Okyay; Vice Chairman İrfan Özhamaratlı and Board Members Ali Ulvi Orhan (Sayman), Sultan Tepe, Ali Eren, Sadık Ayhan Saruhan and Mehmet Ata Ceylan.
The meeting hosted consuls general of many countries including those of EU member states, the USA, South Korea, China and Brazil. During the meeting, ICI Chairman Erdal Bahçıvan gave information on the Turkish economy and mentioned problems faced by the Turkish business world at consulates. ICI Chairman Bahçıvan referred to EU membership as Turkey's most important project of modernization by 2023, the year that will mark the centenary of the Republic, adding that committed efforts to this end have been underway for 50 years but that EU's approach has been disappointing.
Bahçıvan highlighted weakening trust of the Turkish public and the business world in the membership process and added, "Turkey can prove highly beneficial for the EU for the current agenda on energy supply security, common defense and foreign policy, needs of the employment market and the increase of competitiveness in the global economy. As Turkish business world we expect that the opening of a chapter and the term presidency during which it will be opened shall be pre-scheduled and that the negotiation process for full membership shall regain momentum and result in full membership as soon as possible.
The goods of our industrialists move freely while industrialists themselves face limitations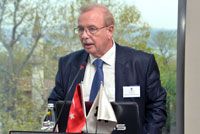 Bahçıvan referred to Turkey's successful fulfillment of its duties towards the EU and the Customs Union for 18 years and pointed out to very heavy visa requirements that Turkish industrialists and businessmen face for entering the EU, "This situation poses a significant obstacle to the development of trade, investments and mutual relations at large. While our goods move freely across EU countries with which we are engaged in almost half of our foreign trade, the limitation of our businessmen's movements is an impediment unacceptable as per the Customs Union. Turkey is the only EU candidate without a visa exemption. We welcome the Readmission Agreement signed by Turkey and the visa facilitation agreement signed on December 16, 2013. Our industrialists mostly travel to EU countries and should be given priority during this transition process and should be able to obtain multiannual and multi-entry visas with minimum bureaucratic requirements especially for business trips."
Turkey will face trouble if it remains outside the Transatlantic
Bahçıvan stated that the Customs Union agreement, which was aimed to be a short transitional stage on the way to full accession to the EU, approached its 20th anniversary, and pointed out to problems emerging out of a delay in membership: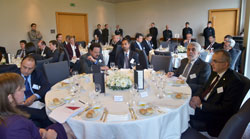 "The main problem is caused by Free Trade Agreements. We support the revision of the Customs Union that will eliminate the negative effects of the FTAs. The 'Transatlantic Trade and Investment Partnership' between the EU and the USA, expected to create the biggest free trade area in the world, will be established between two economies one of which makes up 40 percent of the world economy and the other one thirds of world trade and will aim at not only increasing trade of goods and services but harmonizing standards and eliminating obstacles to investment and trade. If it stays out of this agreement, Turkey will face problems maintaining its trade relations with these two giant blocs. "
Bahçıvan also emphasized Turkey's role as a global actor and added, "Turkey is in the forefront not only with a growing economy but with its communication infrastructure, development in transport networks and tourism infrastructure. One of the biggest advantages it offers to investors is its geographical position. It provides access to 56 countries and a market worthy of 23 trillion dollars with a simple four-hour flight." Chairman of the Executive Council of Istanbul Consular Corps and Slovakian Consul General Jozef Sestak thanked ICI and stated that they intended to increase efficiency of cooperation between institutions.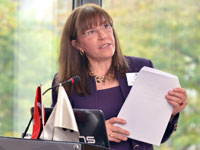 Following the speeches, ICI Secretary General Melek Us made a comprehensive introductory presentation on ICI and gave information on its activities. The presentation included the history of the chamber, its basic services and current and comprehensive projects as well as social responsibility activities that are of increasing importance today.
The countries that attended the meeting were as follows: USA, Germany, Argentina, Austria, Bangladesh, Belarus, Belgium, Bosnia Herzegovina, Brazil, Bulgaria, China, Indonesia, Morocco, France, Georgia, India, Croatia, the Netherlands, Spain, Israel, Italy, Kazakhstan, Korea, Kosovo, Lebanon, Hungary, Macedonia, Malta, Pakistan, Poland, Romania, Serbia, Slovakia, Tajikistan, Ukraine, Greece.