ICI Chairman Erdal Bahçıvan Attends Pakistan National Day Reception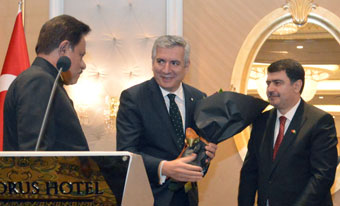 Consulate General of Pakistan organized a reception on March 28, 2017 in honor of Pakistan National Day. Guests included Vasip Şahin, Governor of Istanbul and Erdal Bahçıvan, Chairman of the Board of Directors of İstanbul Chamber of Industry (ICI). The reception hosted a great number of diplomatic guests and business representatives with prominent business figures, including ICI Chairman Bahçıvan, were offered a bouquet of flowers for their contribution to economic ties between Turkey and Pakistan.
ICI Chairman Erdal Bahçıvan engaged in strong dialogue with Consul General of Pakistan Dr. Yousaf Junaid, focusing on initiatives to further economic relations between the two countries. As a result, ICI organized a Pakistan Day on December 15, 2016 which drew considerable attention from industrialists. The event hosted by ICI Chairman Erdal Bahçıvan in Istanbul InterContinental Hotel focused on opportunities for Turkish industrialists and businessmen in Pakistan, a country that has gained stability with an emerging economy in recent years.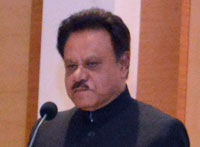 Dr. Yousaf Junaid, Consul General of Pakistan in Istanbul gave a speech at the Pakistan National Day event held on the occasion of the 70th anniversary of the establishment of Pakistan. In his speech he noted how Pakistan took a turn towards development under the leadership of Nawaz Sharif, despite many challenges lately. Junaid said: "We carry out activities within the China-Pakistan corridor. As of late, economic activities between Turkey and Pakistan are also on the rise. In recent years, numerous Turkish companies made considerable investments in Pakistan. We are grateful for them. The word fraternity describes the relations between these two countries. We are brothers, more than friends. From leaders to people in the streets, everybody enjoys this fraternity. Whenever I pray for Pakistan, I pray for Turkey. I know that my Turkish brothers are doing the same."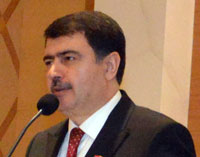 Vasip Şahin, Governor of Istanbul, also took the floor to say: "Both countries share the same feelings. Pakistan was by our side in our War of Independence, stood shoulder to shoulder with us against all odds. We've also considered it a national duty to stand by Pakistan through thick and thin. We've approached them with a sentiment of fraternity. We consider it a duty to not only be there for Pakistan during tough times, but also through their economic development. When Turkish companies invest in Pakistan, it's as though they invest in Turkey. Pakistan is no different from motherland for us. Pakistan will take far faster and confident steps in the future."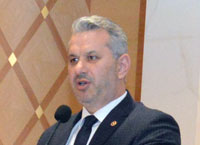 Istanbul MP Hasan Turan in his turn stated the following: "We are paying efforts to take our relations to the next level. We still keep alive the memory of Pakistani people's support in our War of Independence. This remains fresh in the memory of our nation. We will not forget about this friendship."