ICI Held A Seminar On The Israeli Experience In Technology Development And Opportunities For Cooperation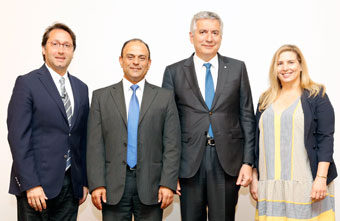 Istanbul Chamber of Industry (ICI) brought together the Turkish and Israeli business worlds with a view to enable collaboration in advanced technology, one of the principal elements for gaining a competitive edge in industry. Held upon collaboration of ICI and Consulate General of Israel, the meeting titled "Israeli experience in technology development and opportunities for cooperation" enjoyed high level of participation by the Turkish and Israeli business communities. Also present at the event were ICI Director of Board Erdal Bahcivan, and Israeli Consul General to Istanbul, Shai Cohen. In the meeting, opportunities for scientific and technological cooperation between Turkey and Israel were discussed, as Israel is one of the leading countries in the world when it comes to R&D projects, techno parks ecosystem, and innovation.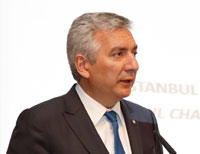 Speaking at the event, Chairman of ICI Erdal Bahcivan, said that the world was undergoing a period wrought with political and economic unease. He underlined the significance of economic, technological and scientific relations on the path to friendship and peace between countries and societies. Stating that their cooperation is very important and meaningful, Bahcivan pointed at the fact that creating economic value through mutual efforts, signing joint technological innovations, and improving friendship and peace between societies is not only a huge gain for industrialists but also for the countries.
Arguing that countries are exerting major efforts to make a difference, to develop new products and to stay ahead stay ahead in this tough international game in today's global markets where competitiveness is crucial, Bahcivan added that societies are forced to have diversified products and services and to come up with new inventions, which makes the concepts of R&D and innovation ever more important.
Bahcivan pointed at Israel's outstanding position in this area as a country boasting the best success examples in R&D and innovation. Stating that Israel is a small country given its surface area and that it is located in a politically challenging geography, Bahcivan underscored that the country compensated for these disadvantages by boosting its education and intellectual capacity.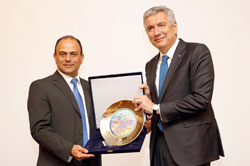 Bahcivan said, "Israel transfers 7.3% of its GDP to education and 4.2% to research and development. In the last 20 years, it has been named as the country of "start-up"s and hosts the R&D companies, labs and research units of global companies. Crowning these investments with tangible achievements, Israel comprises the organizations with the highest number of patent applications in the world. It efficiently commercializes its research output and ranks at the top among the most successful countries with technological products taking up a 45% share in its exports."
Bahcivan remarked that Turkey is one of the key players in the region with a globally competitive power. He commented that Turkey is exhibiting a stable grwoth and that innovation and R&D activities are gaining momentum day by day. Bahcivan said, "Based on the Global Innovation Index 2016 Report, Turkey has risen 16 places since last year, ranking the 42nd among 128 countries. At the same time, it ranks the 5th among the countries with the highest increase in R&D spending in the 2015-2016 period. Rapidly closing the gap with the EU member countries, the increase in the budget and resources earmarked for innovation as well as the number of patent applications attract attention. In that regard, the number of technology development centers, incubation centers and techno park type of structures are gradually increasing while effective collaboration between universities and industry can be observed at the same time. When we examine the Turkish Patent and Trademark Office data, the number of local patent applications in 2005 was 935, compared to 2526 foreign patent applications. In approximately 10 years, in 2015, the figures reached 5512 and 8446 respectively, which is very pleasing development for us. We have no doubt that these figures will further increase in the coming years."

Bahcivan said that despite the negativities stemming from certain conjectural geopolitical risks, Turkey is growing above the world average, and that it sets an example for the world with its public budget discipline, and stands out with the increasing quality of production and competitive economy with each passing day. Bahcivan added that at ICI, they act on the basis of this perspective and that they voice in every platform that entrepreneurship, innovation and a quality industry transformation based on R&D are essential for for Turkey to reach its future targets.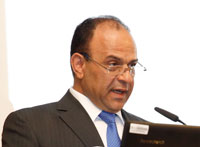 Speaking at the event, Shai Cohen, Israel's Consul General to Istanbul said that the activities by ICI contributed to the relations between two countries. Cohen mentioned that ICI is a very important organization for them and that commerce stands out as a topmost factor in normalizing the relations between Turkey and Israel. Talking about the visit by 150 business people to Israel last week, Cohen stated that this was the largest delegation they hosted recently.
Pointing that Turkey and Israel have a lot to offer each other, Cohen said that Turkey is a country of opportunities for investors given its geographical location and its infrastructure. Emphasizing that Israel is a center of innovation and novelty, Cohen remarked that thanks to their well-educated experts they generate technology, and that they are advanced in the fields of IT, agriculture, micro chips, health, nanotechnology and cybersecurity. Mentioning that Israel addresses innovation and technology as prioritized topics, Cohen said that Israel supports the innovation ecosystem and creates an environment where new ideas can meet incubation centers. Focusing on the importance of the symbiotic relationship between universities and the business world in Israel's success in this area, Cohen commented that it is essential that the academic community, businesses and industry get together.
Stressing that failure is a stepping stone rather than a source of embarrassment, Cohen noted that the successful companies of the world experience failure in the very beginning. Cohen said, "The cross-section of the cooperation between the two countries has to be innovation. Turkey presents significant opportunities for Israeli entrepreneurs with its urban transformation and infrastructure development. The collaboration between techno parks and industry parks in both countries is vital."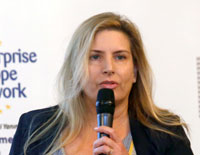 Later during the event, a panel addressing Israeli experience in technology development was held. Moderated by Istanbul Technical University ARI Technocity General Manager, Kenan Colpan, the panel hosted the Israeli entrepreneur Nava Swersky Sofer, Chairman of International Commercialization Alliance and the founder of NanoIsrael who shared their experiences in Israel. Stating that they have been working in a variety of areas in innovation for the last 25 years from start-ups to venture funds and academia, Sofer described Israel as a "start-up nation."
Noting that a lot of the technologies used today are invented in Israel, Sofer brought up many examples including cherry tomatoes, memory sticks, and navigation software. Pointing at their great human capital, Sofer underlined that the rate of R&D investment compared to GDP per capita in Israel is 4.3%, taking them to the leadership position in that area. Underscoring that the government aids and incentives are designed smartly, Sofer remarked that they diversify their investments rather than concentrating on a single area.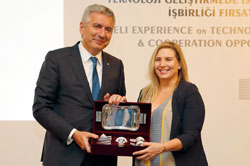 Stating that the per capita spending in venture funds in the US is 215 USD and 565 USD in Israel, Sofer mentioned that an important portion of venture funds come from the US, though China has begun to get ahead in the game in the last couple of years. Reminding that Mobileye company was acquired by Intel for 15.3 billion USD, Sofer said that Intel moved it driver-free vehicle department to Israel, hence realizing a technology transfer.
Noting that 50.000 people are employed in 300 R&D centers of the multinationals in Israel, Sofer said that in the past companies used to buy technology whereas today they set up their R&D centers in Israel. Pointing at the government support for enabling the migration of top-level academicians to the country, Sofer articulated that they encouraged bright brains coming to Israel. Declaring that most of the technologies developed in their country come from the academia, Sofer told that they have reached a very important point thanks to the smart interventions of the government and support for venture funds.
Reminding that discoveries are born out of needs, Sofer expressed that a small, newly-established country isolated from its neighbors transformed all of these disadvantages into opportunities. For instance, the concern for security led to the foundation of a strong army, which then led to the development of defense technologies. He also said that being a new nation brought about an openness to new ideas. Sofer remarked, "Turkey has to find out and celebrate its achievements in innovation. In your talks with companies and academia, you should show these inventions as the output and awards of your R&D and innovation efforts."

The following panel was moderated by Prof. Can Erkey, member of faculty at the School of Chemistry and Biology Engineering at Koc University, and Director of Energy Center. The title of the panel was, "EU Ufuk2020 Program Opportunities: Collaboration between Israel and Turkey." In the panel, Bilateral Programs Manager of the Israel R&D Directorate (ISERD), Uzi Bar Sadeh, Deputy National Coordinator of TÜBİTAK's Ufuk2020 Program, Dr. Selda Ulutas Aydogan, and Advanced Research Officer from TOFAS Turkish Automobile Plant, Resul Ilhan shared their views.
In the panel titled "An efficient platform for university-industry collaboration", Deputy President of Mef University, Prof. Erhan Erkut moderated a discussion with Bogazici University Joint Innovation Program Chair, Dr. Nir Ben Lavi, Istanbul Technical University Arı Technocity General Manager, Kenan Colpan, and Sisecam Group Research and Technological Development Chairman, Prof. Sener Oktik. The panelists shared their perspectives as to what steps could be taken to enable collaboration between the academic community and industry.