ICI Holds a Country Day for Vietnam: Rising Star of Southeastern Asia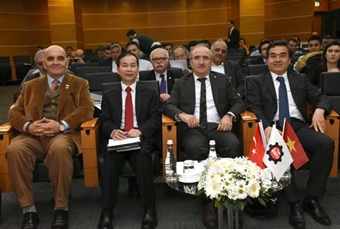 Istanbul Chamber of Industry (ICI) organized an event titled "Vietnam Country Day and Opportunities for Turkey" in order to introduce the cooperation and investment opportunities in Vietnam, the rising economic power of Southeastern Asia, to Turkish industrialists. To the event hosted by Sadık Ayhan Saruhan, ICI Accounting Member of Board of Directors in Odakule, Vietnam Socialist Republic Ankara Ambassador Pham Anh Tuan had attended besides huge number of industrialists and business people. Vietnam economy and its potential were put under the microscope during the presentations that continued all day long.
Sadık Ayhan Saruhan, ICI Accounting Member of Board of Directors, who made the opening speech of the event, named Vietnam as one of the fastest growing markets of Southeastern Asia. Stating that Turkish and Vietnamese economies complement each other in a way, Saruhan said that they may carry out joint projects in various fields and even enter into third country markets together with joint investments.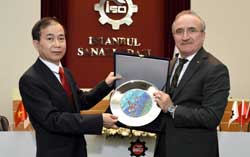 Reminding that the diplomatic relations between these two countries had been established on 7 June 1978 and thus it is the 40th anniversary of their diplomatic relations, Saruhan expressed their wishes for the ongoing friendly relations between two countries to continue by improving in the field of trade, too. Giving the information that Turkish Prime Minister Binali Yıldırım became the first Turkish Prime Minister to visit Vietnam officially with his visit on 23-24 August 2017, Saruhan added that Turkish Minister of Foreign Affairs Mevlüt Çavuşoğlu was also the first Turkish Minister of Foreign Affairs to visit Vietnam officially after 17 years with his visit on 17-19 March 2015. Saruhan said that these visits accelerated the bilateral relations and thus brought them closer with the friend and brother Vietnam public.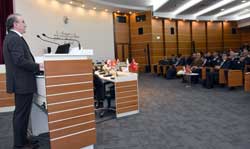 Saruhan shared that the trade volume between Turkey and Vietnam reached a figure of 3.2 billion dollars as of 2017, and underlined that the current trade volume is still lower than the expectations even though this constantly increasing figure is pleasing for both sides. Saruhan recorded that 237 million dollars of this current volume is Turkey's export and 3 billion dollars is Turkey's import. Stating that they are exporting nuts, spices, milk and cream, cotton goods and pharmaceuticals to Vietnam and importing wireless telephones, automatic IT machines, synthetic filament fibers and textiles created with these fibers and cotton threads from Vietnam, Saruhan underlined that there is a significant plus in favor of Vietnam in commercial relations and thus the companies producing goods with high potential to be exported to Vietnam should especially make the optimum effort.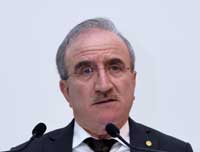 Stating that taking firm steps toward the signature of a free trade agreement between two countries would be beneficial for both as mentioned by Turkish Prime Minister Binali Yıldırım during his Vietnam visit, Saruhan added that the removal of visas will also both improve trade and enable Turkish and Vietnamese people to get to know each other better since it will increase the tourism between the two.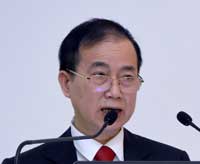 Taking the stage after Saruhan, Vietnam Socialist Republic Ankara Ambassador Pham Anh Tuan stated that Vietnam achieved an annual growth rate of 6.5 percent in average thanks to the reform program that it put into practice 30 years ago. Stating that Vietnam has a dynamic economy growing its trade volume with the signature of many free trade agreements in the recent years, Tuan told that Turkey has close relations with ASEAN (Association of Southeast Asian Nations) that Vietnam is also a member of and even gained a Sectoral Dialog Partner status.
Calling the trade figures between two countries promising, Tuan said that Turkey is the second largest partner of Vietnam in Middle East in respect of trade volume. Tuan provided the data that 17 Turkish investors invested a total of 700 million dollars to Vietnam, and told that the Turkish investors are planning to establish a Turkish industrial zone in Vietnam in the next period.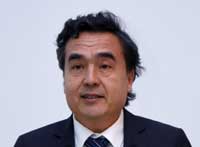 The event continued with a panel titled 'Cooperation and Investment Opportunities in Vietnam Market', where Turkish Ministry of Economy, Former Hanoi Trade Consultant Nedim Eliuz and Vietnam Embassy, Trade Consultant Le Phu Cuong made presentations regarding Vietnamese economy. Nedim Eliuz stated that Vietnam records a stable growth around 6-7 percent. Stating that the inflation in the country began to drop as of 2014, Eliuz said that the country had an export figure of 213 billion dollars in 2017. Naming the main export items as phone and parts, textile, computer and electronic products, shoes, machinery and parts, Eliuz stated that the country has a great potential due to the shift of global commercial and economical activities to Asia.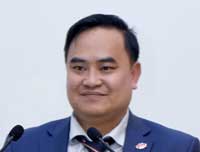 Vietnam Embassy, Trade Consultant Le Phu Cuong shared the success story of Vietnam in reducing poverty by underlining that they were raised to the middle-income country level while they were a poor country according to World Bank. Mentioning their extremely outward-oriented foreign trade policies, Cuong emphasized that the foreign investors don't need a local partner to invest and use their own capitals hundred percent. Cuong stated that labor costs are highly competitive, and thus many Vietnamese workers worked in the construction of the third airport in Istanbul.
During the panel titled 'Investment and Cooperation Experiences in Vietnam' moderated by ICI Board of Directors Assistant Secretary General Mehmet Dolgan following the previous one, DEIK (Foreign Economic Relations Board of Turkey) Turkey-Vietnam Business Council Executive Board President and MNA Representation and Consultancy Chairman Mustafa Necati Abacıoğlu shared his experiences with the audience and answered their questions.