ICI January Assembly Discusses a New University - Industry Cooperation Model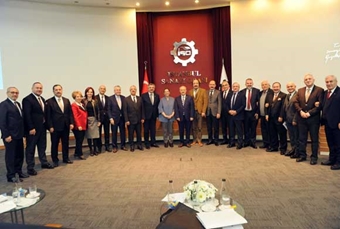 The ordinary January assembly meeting of Istanbul Chamber of Industry (ICI) was held on 24 January 2018 in Odakule with the main agenda of "The Importance of a New University-Industry Cooperation Model for our Industry and Economy with a Technology-Oriented Education in the Age of Global Competition and Information". The assembly meeting that was chaired by ICI President of Assembly Zeynep Bodur Okyay welcomed Istanbul Technical University (ITU) Rector Prof. Dr. Mehmet Karaca.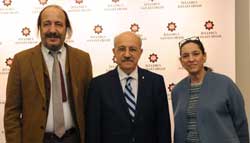 ICI Vice Chairman Adnan Dalgakıran, who talked about the agenda during the assembly meeting, stated that Turkey has made the most important and most critical decision of the recent times last weekend and that the "Olive Branch Operation" started for Afrin by Turkish Armed Forces to secure Turkey's Syrian borders continues. Wishing peace and welfare for the region that needs these a lot besides wishing for the operation to end with success, Dalgakıran wished God's mercy for the martyrs and fast recovery for the veterans.
Dalgakıran talked about the agenda, too: "The things that create a difference in this age of information, the leverages of the global competitive power are technical knowledge and qualified people. Adapting to Information Age is not a luxury for Turkey, but a vital obligation. Turkey is ranked 66th among 137 countries in terms of the development level of industry-university cooperation in R&D. And this is not the spot that we deserve. We should achieve better industry-university cooperation with creative ideas, divide our universities based on specialization instead of formal education, and value organization, cooperation and strategy more than ever."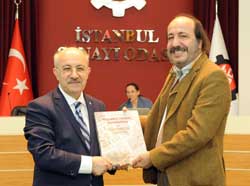 Istanbul Technical University (ITU) Rector Prof. Dr. Mehmet Karaca stated that ITU has a tradition of its own as an attraction center of Istanbul. "If we want our industrialists to be global players by freeing them just from being local, we should definitely establish our own ecosystem centered around our own human capital." said Karaca.
ICI January assembly meeting was opened by ICI President of Assembly Zeynep Bodur Okyay. While opening the meeting, Okyay also shared her ideas about the agenda:
"If we can meet here today in peace and safety, we should never ever forget that we owe this to our soldiers serving bravely on the borders and beyond borders for years. I wish success to all our soldiers taking role in the 'Olive Branch' operation initiated by Turkish Armed Forces to free our borders from all terror groups and to hit the targets of terror groups PKK-PYD-YPG and ISIS.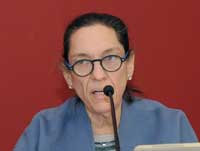 There is no one, who knows the importance of University-Industry synergy better than the ones in this room. ITU still continues to contribute to the creation of information, technology and innovation in Turkey by training qualified workforce with the valuable contributions of our dear rector. I am sincere in my words that if there was no ITU, our industry would not be at its current level. The quality of a society, the power of a state and a nation come from its qualified, skilled, productive and always informed society. And its foundation is an education system that teaches critical thinking, encourages research and supports innovation. In the geography that we are living in, our greatest richness is our young population and people with high adaptive power. Raising qualified, skilled and productive people and offering them to the industry and national economy are our main expectations from the universities in our effort to achieve an industry culture. Moreover, we expect human resources that does not just think, but also designs, invents and sustains not just for the industry but for all fields."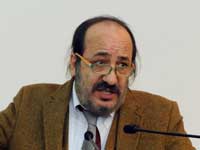 After Okyay, ICI Vice Chairman Adnan Dalgakıran took the stage. Dalgakıran stated that this age is named as Information Age not just due to the technological progress, but due to the transformation that this progress led, and the uncertainty and the challenges that this progress brought. Dalgakıran reminded that humanity faced similar social transformations, uncertainties and challenges while moving from agricultural societies to industrial societies but managed to adapt to the spirit of the age and continued on its path by even gaining strength, and that those who preferred to watch rather than to adapt failed to maintain their existence.
Stating that everyone agrees how ruthless, hard and challenging the global competition becomes every day while discussing the positive and negative effects of globalization, Dalgakıran reminded that new and different production methods are developed. Dalgakıran said that these innovations named as "destructive innovations" sometimes led to a competition where one wins and many lose and such destructive rivals can emerge from anywhere in the world since the industrial infrastructure is now spread all regions in the globalized world.
Dalgakıran continued:
"Only few years ago, more complicated and more sophisticated products that require more knowledge and more technology were being released only by old generation industrial countries. And we were used to see the rest of the world to produce labor-intensive products. Now, the conditions of the global competition enables new companies from any country to rise rapidly with such sophisticated products. Some of these technological sophisticated products can be named as 3D Printers, Advanced Materials and Nano-materials, Artificial Intelligence and Robotics, Biotechnologies, Power Generation-Storage-Transfer Technologies, Geo-engineering, Connected Sensors, Neuro-technologies, New IT Technologies and Space Technologies. In spite of that, we need to join the global competition with at least such sophisticated products with a dynamic infrastructure. At this point, information gains a lot of importance. The keys of competition in the past such as cheap labor, cheap raw materials are no longer important. The thing that creates a difference, that is determinant is knowledge now, and especially the technical knowledge based on a scientific background and, of course, qualified human factor that owns, embraces, processes this knowledge and reflects it to production. These are the keystones of global competitive power in the information age. In short, the leverages that may carry the industry, economy, society of a country to a better point are the technical knowledge and the qualified human factor."

Dalgakıran stated that the high development level achieved by the developed countries today are the result of the importance that they attach to the investments in human capital at the start of their development journey, and continued: "The countries that will leave their mark on the Information Age would be the ones that think creatively and critically, dream, wonder and doubt, care about contradiction, think analytically, believe in themselves, remain open to new ideas, achieve the optimum, adapt to economical and technological developments, renew themselves constantly, adopt their knowledge and experience to real life problems, and own qualified people and entrepreneurs."
Saying that industry-university cooperation is important and yet Turkey is not at a very good level in this sense, Dalgakıran recorded that Turkey was ranked 66th among the 137 countries in respect of industry-university cooperation regarding R&D in the latest Global Competition Report of World Economic Forum. Dalgakıran added that Turkey was ranked 43rd among 127 countries in the World Innovation Index prepared by the World Intellectual Property Organization.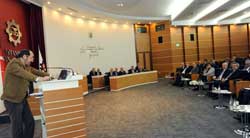 Dalgakıran said that even though technoparks rapidly develop and increase in number as the centers of R&D and innovation, they are still not enough. Dalgakıran added that only 20 percent of the universities in Turkey own an active technopark according to the Entrepreneur and Innovative University Index of TÜBITAK (The Scientific and Technological Research Council of Turkey). Dalgakıran said that even though they have a foundation in the field of R&D and innovation, they are not still in the position that they deserve and can accept, and underlined that R&D is not possible without being strong in basic sciences.
Saying that they are aware of their own responsibilities in this subject as Istanbul Chamber of Industry, Dalgakıran reminded that university and industry need each other to "turn information into value" and thus need to work together. Dalgakıran mentioned the cooperation platform that they established under the name of "industry platform" at the end of the close efforts with technology transfer offices and the cooperation protocols signed with universities in order to remove the problem of "non-communication" named as the largest obstacle before cooperation culture by both ICI and all the other stakeholders of university-industry cooperation.
Dalgakıran said that they underline the requirement of developing an entrepreneurship ecosystem with high added value and production focus at every occasion as Istanbul Chamber of Industry, and that the overall picture is not positive in respect of qualified and professional entrepreneurs even though Turkey is the leader of the world in terms of the rate of entrepreneurs to total population. Dalgakıran said that industry-university cooperation should be considered in a broader sense in order to enable Turkey to be ranked among developed countries rather than being average.
After Dalgakıran, ITU Rector Prof. Dr. Mehmet Karaca addressed to ICI Assembly Members.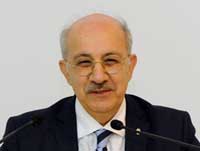 Karaca stated that Turkey has problems regarding generation of information and the future necessitates global awareness and competition. Karaca said that the world develops rapidly and now is the time of the information generators, analyzers and marketers. Telling that the approach of universities increasingly transform, Karaca said that the first-generation universities of the 19th century were education-training oriented, the second-generation universities of the 20th century focused on R&D and article production, and the third-generation universities of the 21th century are based on innovation and entrepreneurship. "The universities of the 21th century should definitely offer a skill besides education and research. It would be challenging for those that don't embrace the motto of innovation and entrepreneurship, and don't produce beneficial models, patents and entrepreneurs besides education." said Karaca.
Karaca named strategy, finance, culture, support, human and market as the elements of entrepreneurship ecosystem model, and stated that entrepreneurship ecosystem had been initiated at ITU with TEKMER supported by KOSGEB (Small and Medium Industry Development Organization) in 1992. Karaca provided the information that ITU Arı Technocity is the top exporter technocity of Turkey with a total export value of 1.2 billion dollars with 270 R&D companies in its body. Karaca underlined their choice to encourage small entrepreneurs to pave the way for the new.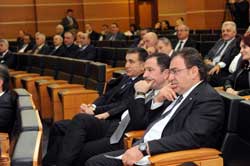 Karaca, who said that they had the support of ICI for the last three years in ITU Core Entrepreneurship ecosystem, thanked ICI for this support. Karaca stated that they had received around 100 project applications five years ago and that number increased to 11,906 projects last year. Karaca, who said that these efforts were made to establish an entrepreneurship ecosystem, stated that ITU Core is the eight largest incubation center of Europe and the eighteenth largest incubation center of the world.
Karaca stated that the personal tradition of ITU is an advantage in establishing an entrepreneurship ecosystem and that Istanbul is an attraction center for qualified people as a brand city. "If we want our industrialists to be more than locals and become global players, we must built our own ecosystem centered around our own human capital." said Karaca.
Karaca said that Turkey has some significant problems regarding national education since information is loaded to the kids without instilling any value, causing the quality of graduates to increasingly decrease. Karaca told that the students don't even want to start clubs in the university and they try to encourage them. Karaca reminded the "It is not the strongest or the most intelligent who will survive but those who can best manage change." statement of Charles Darwin, and ended his speech by once again underlying the requirement of Turkey to adapt to the global transformation.
Following the speeches, ICI Assembly Members came to the stage one by one and shared their opinions about the agenda.