ICI Management Holds Talks with Russian Ministry of Economic Development in Moscow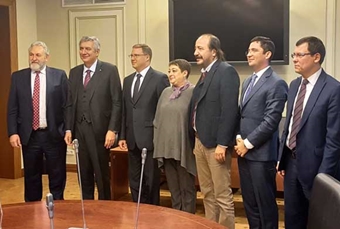 In a bid to see the upcoming business opportunities in the Russian Federation in person and pay official visits, Istanbul Chamber of Industry (ICI) went to Moscow.
In Moscow, an ICI Senior Management delegation consisting of ICI Chairman Erdal Bahçıvan, ICI Deputy Chairman Adnan Dalgakıran, and ICI Board Member Ali Eren met with Aleksey Gruzdev, Deputy Minister of Economic Development of the Russian Federation.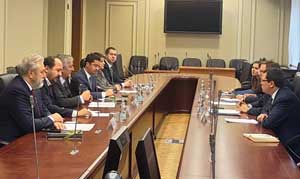 The meeting featured the exchange of opinions on how to further strengthen bilateral industrial relations. The representatives talked of setting up an industrialist zone for Turkish industrialists in the Russian Federation, and the Russian sectors outstanding with investment opportunities. As regards the investments in Russia, participants shared experiences of SMEs from both countries, addressed the commercial relations at issue and the ways to further invigorate trade.
Among the meeting participants were Evgeniy Popov, Director of the Department of Asia, Africa and Latin America countries at the Ministry of Economic Development of the Russian Federation; and Aydar Gashigulli, Trade Representative of the Russian Federation in Turkey who had visited Istanbul Chamber of Industry in November to discuss the latest situation of economic relations and new opportunities involving Turkey and Russia.