ICI Management's First Ever Meeting with Asian Trade Mission Representatives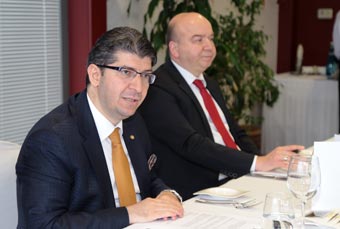 The Istanbul Chamber of Industry (ICI) Management gathered with the Asian Trade Mission Representatives in Istanbul to discuss the efforts for enhanced commercial and economic cooperation. The dinner event, held on May 12, 2016 at the ICI Headquarters, had a cordial atmosphere. Hosted by Ali Ulvi Orhan, Treasurer of the ICI Board of Directors, and M. Ata Ceylan, Member of the ICI Board of Directors, the meeting was attended by Indonesian Undersecretary of Trade Toary Worang, Japanese Trade Consultancy Consul Shino ITO, Vietnamese Trade Consultant Cuong Le Phu, and Indian Vice Consul of Trade Amar Singh.
Participants received updates about the Turkish economy and Istanbul Chamber of Industry and emphasized that Turkey's improved relations with these countries of deep-rooted mutual friendship greatly contributed to the regional peace, stability, and cooperation.
Participants further stressed that the countries represented at the event attractive markets for Turkey with their economic power and large populations, and the efforts required to improve the mutual relations were discussed.
In this context, as country days offered a significant platform for foreign business people to know each other, and it was decided to follow up the Indonesia country day held on May 9, 2016 with Japan, India, and Vietnam.