ICI Odakule Headquarters Wins LEED Gold Certificate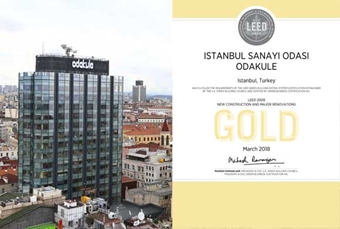 Odakule, the main service building of Istanbul Chamber of Industry (ICI), is certified with LEED Gold by American Green Buildings Council.
Odakule building, which had gone through a comprehensive renewal with great efforts to include green and smart equipments in order to fully respond to the needs of the present, has been certified with LEED Gold by receiving 63 points in the LEED 2009 category of new constructions and great alterations.
Odakule that commenced operations in 1976 as one of the largest projects of its period also has an important place in the Turkish architectural history as one of the symbols and first skyscrapers of Istanbul. A huge renewal had been initiated in the building in 2015 due to the changing needs, and the updated facility was officially opened with a ceremony honored by Turkish Prime Minister Binali Yıldırım last June.
With this renewal project, it was aimed to receive LEED New Construction certificate. And for this purpose, we had various meetings with project stakeholders to set an objective and a strategy. These meetings continued in planning, project design and construction periods, and thus it was ensured to achieve the objectives set for LEED certification as much as possible.
Some of the titles that were addressed within the scope of Odakule project for LEED certification were as follows: sustainable field, water efficiency, energy and atmosphere, materials and resources, interior space and life quality.
Odakule that was certified based on the score that it collected in these sub-titles received LEED Gold by getting 63 points (Certified: 40-49 points, Silver: 50-59 points, Gold: 60-79 points, Platinum: 80-110 points).
About LEED:
LEED certification system that was launched in 1998 is a green building certification system that had been developed by United States Green Buildings Council (USGBC). LEED that is the abbreviation of "Leadership in Energy and Environmental Design" covers an extensive process that starts with the design process and continues until the construction of the building is over. LEED 2009 system has different categories for different types of buildings. These are as follows: new construction, core & shell, commercial interiors, schools, existing buildings: operation & maintenance, homes, healthcare, retail, neighborhood development.