ICI Receives Uzbek Deputy PM Azimov and His Delegation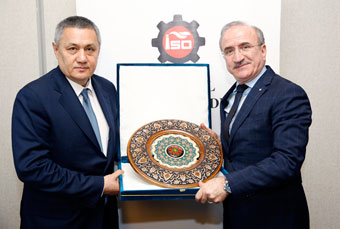 An Uzbek delegation led by the Republic of Uzbekistan Deputy Prime Minister Rustam Azimov paid a visit to the Istanbul Chamber of Industry (ICI). The 24-person delegation was received by Sadık Ayhan Saruhan, ICI Board Treasurer.
Present at the meeting that took place at the Intercontinental Hotel were Elyor Ganiyev, Minister of Foreign Economic Affairs, Investments and Trade, Republic of Uzbekistan; Tulkun Safarov, Deputy Minister of Agriculture and Water Resources, Republic of Uzbekistan; Anvar Sharapov, Chairman of the State Tourism Committee of Uzbekistan; Ravshan Gulyamov, Executive Director of the Fund of Reconstruction and Development of the Republic of Uzbekistan; and Saidahmad Rahimov, Chairman of the National Bank of Uzbekistan for Foreign Economic Activity, as well as industrialists from the ICI's Assembly and Sectoral Committees.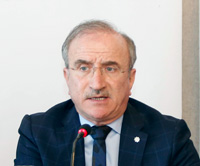 During the meeting, which was also attended by the Ministry of Economy Department Heads A. Yavuzhan Erdem and Ömür Atılgan, Sadık Ayhan Saruhan remarked on the importance of the relations, and expressed the ICI's pleasure in hosting the Uzbek delegation. Saruhan also voiced Turkey's commitment to develop its relations in every field with its sister country, Uzbekistan. Stressing that Turkey was the first country to acknowledge Uzbekistan's independence on December 16, 1991, Saruhan continued:
"The visit of our President to Samarkand on November 17, 2016 has sparked a common will to further the relations between the two countries. Following this visit, which was of great significance within the context of our close ties with Uzbekistan, we believe that Mr. Azimov and Mr. Ganiyev's visit to Turkey will be of great benefit.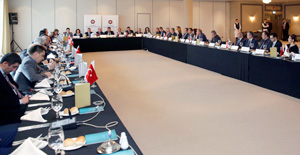 Noting that the foreign trade volume between Turkey and Uzbekistan, around $168 million in early 2000s, has now exceeded $1.2 billion, Saruhan continued:
"There are 450 Turkish enterprises in Uzbekistan, engaged in a variety of industries such as textile, contracting, hospitality, construction materials, plastics, pharmaceuticals and service. Likewise, our country is home to 235 Uzbek companies from a variety of sectors. It is a source of great pleasure to see the accelerating growth of commercial relations between our sister country, Uzbekistan, with which we have deep historic and cultural links."
Following Saruhan's speech, Rustam Azimov, Republic of Uzbekistan Deputy Prime Minister, took the floor.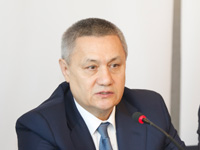 "We are here today with good intentions and for a good purpose. As you know, last year our people suffered the intense grief of losing our President. In this period of bereavement, the visit the President of the Republic of Turkey Mr. Recep Tayyip Erdoğan paid to our country was of historic importance in the sense that is communicated to us the support of our Turkish siblings. Mr. Erdoğan's visit showed that the people of our countries would be there for each other, in times happy and sad."
Describing the previous day's meetings with Minister of Economy Nihat Zeybekçi, Deputy Prime Minister Tuğrul Türkeş and afterwards with President Recep Tayyip Erdoğan as highly fruitful, Azimov added: "We discussed what we can do to enhance commerce, not just in terms of quantity, but in a way that will strengthen relations between the two countries. Following the discussions, we took part in a business forum that saw the attendance of almost 200 reputable Turkish enterprises. It gave us great pleasure to witness the signing of a series of commercial contracts with a total value of $953 million."
Azimov noted that Uzbekistan, with an economy that grew by 8 percent last year, had shed its dormant outlook of the past. "I would like to note that we are one of the five fastest growing economies in the world. We are a country that has eliminated internal debt through macroeconomic activities and structural reforms, and reduced its external debt to a level around 18 percent of its GDP," Azimov said.
The meeting also saw ICI Member industrialists and guests discuss investment and cooperation opportunities in Uzbekistan.