Industrialists will meet the Entrepreneurs at İTÜ ARI Teknokent in "Incubation"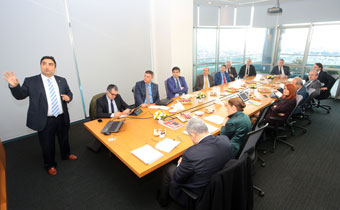 Istanbul Chamber of Industry (ICI) prepares to take more effective steps to gather together Istanbul Technical University (İTÜ) ARI Teknokent and the industrialists. To this end, ICI Chairman Erdal Bahçıvan and ICI Board Members visited İTU ARI and received a briefing about the work being carried out there.
Hosted by İTÜ ARI General Manager Kenan Çolpan and briefed by İTÜ ARI Teknokent's CMO Deniz Tunçalp with an elaborate presentation, ICI Board Members received detailed information particularly on the process regarding the admission of entrepreneurs and later steps at İTÜ ARI's Incubation center.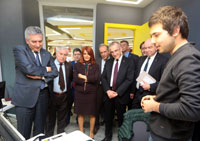 After the presentation, ICI Chairman Erdal Bahçıvan told that they were really impressed by the work being performed and the results achieved. Expressing their willingness to participate in such processes as industrialists, Bahçıvan continued: "Today, insufficient manufacturing of advanced-technology products with high added value represents Turkey's most important shortcoming. The work carried out at İTÜ ARI and the support provided to young entrepreneurs excite us in terms of overcoming such a shortcoming in the future."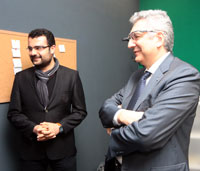 Bahçıvan told that they are willing to establish a much closer cooperation and communication with İTÜ ARI, doing their share as ICI in the commercialization process for the projects to bring the industrialists closer to the work being carried out there.
In the meeting held with ICI Deputy Chairman İrfan Özhamaratlı, ICI Board Members Ali Ulvi Orhan (Bookkeeper), Nahit Kemalbay, Sultan Tepe, Sadık Ayhan Saruhan, Bekir Yelken, Nurhan Kaya and M. Ata Ceylan, İTÜ ARI executives updated the participants about the "İTÜ Core" process that is seen as a gateway whereby entrepreneurs step in İTÜ ARI: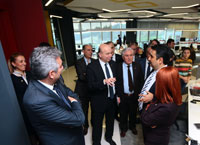 Supporting entrepreneurs for the last three years with İTÜ Core project, İTÜ offers a fully equipped office, laboratory facilities to further develop the project, raw material, instructor, trainer and mentor support as well as core capital for those having a technology-based project.
After the assessment of applications, successful groups composed of young entrepreneurs with innovative ideas, feasible projects and commercializable work receive technical and infrastructural support and training provided by consultants as well as capital contributions.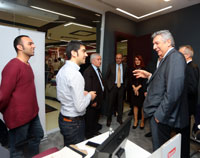 İTÜ Core has four stages:
1- Preliminary Incubation
Entrepreneurs write their work plans, conduct research and receive training/consultancy services in the office area within ARI 3 building located at İTÜ Ayazağa campus.
2- Accelerator
Young entrepreneurs are given a 150-hour core MBA education by trainers and mentors.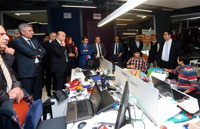 3.- Big Bang
Big Bang is the prize awarded to provide financial support for the projects. This prize secures the core capital required for the project's industrial implementation.
4- Incubation
Successful groups benefit from İTÜ Core Incubation facilities over a period of one year. In this stage, İTÜ Core provides successful candidates with core capital free of charge and without expecting any share. Groups meet Turkey's pioneering investors as they receive company consultancy services.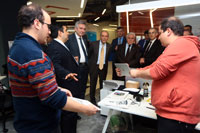 The Project has received 2,500 applications so far (in three years). In 2014, total number of applications was 1,000. Financial supports granted so far are worth more than TRY 5 million.
In 2015, the program will receive applications from cloud computing and automotive industries. 30 groups will be admitted into İTÜ Core. Funds worth TRY 1 million will be distributed this year.