Invitation for Investment from Pakistani Province Balochistan to Turkish Industrialists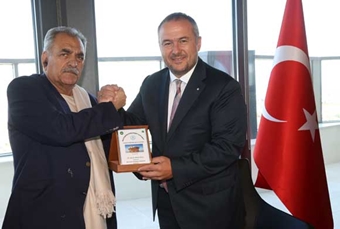 Istanbul Chamber of Industry (ICI) received a delegation from Pakistani Province Balochistan as part of a series of visits in Turkey to discuss the mutual cooperation and investment opportunities. ICI Board Member Serdar Urfalılar hosted the delegation led by Dr. Hamid Khan, Provincial Minister of Balochistan. In the meeting, the Pakistani delegation invited Turkish companies to cooperate with Pakistan in the shipbuilding and construction materials sectors. Noting that Pakistani economy shall pick up steam in the forthcoming period with the China-Pakistan economic corridor coming into play, delegation members invited Turkish industrialists and business people to invest in the region of Balochistan.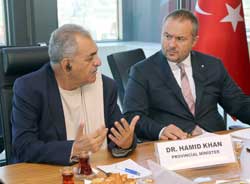 At the meeting, ICI Board Member Serdar Urfalılar noted that Pakistan is exclusively important to Turkish economy, also reminding that, in Turkey, the expression "sister country" recalls Pakistan in the first place. Urfalılar also stated that, although Turkey and Pakistan do not share any border, the two countries befriended on various diplomatic grounds throughout history and helped each other through difficult times.
"Unfortunately, the bilateral trade volume remains well below its potential. We believe that our trade volume, which amounted to around 610 million dollars in 2016, will rapidly increase with the Free Trade Agreement to be finalized soon according to the plan. Also, delegation visits to be organized between the two countries such as this visit paid by your esteemed delegation as well as the mutual promotional activities of our countries will significantly contribute to the further progress of our economic relations," remarked Urfalılar.

During the visit of the delegation accompanied by Dr. Yousaf Junaid, Consul General of Pakistan in Istanbul; Dr. Hamid Khan, Provincial Minister of Balochistan noted that the potential of bilateral trade is higher than the actual volume, and called for seizing investment opportunities in Pakistan, addressing Turkish investors in particular. In addition to officials from the Balochistan Province of Pakistan, the meeting saw participation of the ICI delegation consisting of Bilal Kütük, ICI Member of Assembly; Mehmet Ali Fincan, Chairman of ICI's 24th Sectoral Committee of Iron-Steel and Hot Rolled Products Industry; and Agah Ünver Şanal, Vekon Sales Manager.