Iran to Set Up a Private Industrial Zone for Joint Investment by Turkish and Iranian Industrialists
In one of the most crucial parts of his official visits to Iran, Istanbul Chamber of Industry (ICI) Chairman Erdal Bahçıvan met with Muhammed Reza Nematzadeh, Iran's Minister of Industry, Mine and Trade. Showing a cordial hospitality towards the Turkish delegation, which included among others ICI Chairman Erdal Bahçıvan, Turkey's Ambassador Rıza Hakan Tekin, and ICI President of Assembly Zeynep Bodur Okyay, Nematzadeh said that they wanted to foster private sector's role in the economy in the coming period.
Mr. Minister repeated the $30 billion target in economic relations between Turkey and Iran. Nematzadeh stated that Iran President Rouhani's visit to Turkey proved quite fruitful, added that transit trade and customs were urgent matters needing a resolution, and that what mattered the most was joint investment by business people from the two countries. He informed that Iran would have a new industrial zone in which both Turkish and Iranian business people would be able to invest and that he had sent his assistant to Ankara for this project and a Turkish delegation would reciprocate this visit.
With regard to the decision taken in the latest meeting, involving the setup of four industrial zones, Nematzadeh called for provision of incentives to Turkish investors in Iran. Remarking that the two countries have different potentials, Nematzadeh noted that Iran is the global leader in oil and natural gas and that the energy is the key ingredient of the industry. He called Turkish investors to invest in textile and petrochemicals, and conveyed that he had met with officials of a Turkish petrochemicals company who displayed great interest in the proto operate in the country.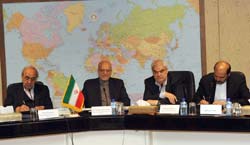 Nematzadeh also said that Iran and Turkey must join forces to develop strategies towards close markets: "Your visit to Iran is a deliberate sign of Turkey's determination to invest, in spite of everything. There are many investable sectors including oil, natural gas, and petrochemicals as well as automotive. We can also cooperate in electronics and home appliances, textile, food, building materials and construction, furniture and wood, technology and IT sectors. You have experience in maritime, which we would like to benefit from. The close cultural relations between the two countries are likely to carry us forward."
Nematzadeh stated that the mutual abolishment of visas between Turkey and Iran was a sign of the past governments' determination in this regard and added that the countries must turn the tide of globalization in their own favor. Commenting on their satisfaction with ICI's decision to launch an office in Iran, Nematzadeh reciprocated by reminding their Turkey office and said that there were no limits to the development of bilateral economic and political relations between the two countries. He then asked ICI's support for cooperation in major projects, highlighting that large-scale joint investments would pave the way to much bigger markets.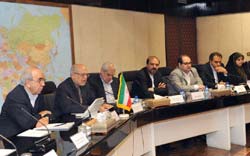 Nematzadeh advised investment in petrochemicals, electricity and energy, and called for joint efforts towards the development of a new automobile to be exported to global markets. Referring to Turkey's extensive experience in tourism, Nematzadeh noted that Iran also has potential in this field. "You have an extensive knowledge in construction and engineering, and we have engineers working abroad. We will invite your industrialists to Iran and bring ours to Turkey. Fikri Işık, your Minister of Science, Industry and Technology was genuinely interested in this plan. We have come to an agreement, talked about the joint industrial zones and decided to speed up the implementation. The two countries may work more closely to produce halal-certified goods, which then can be exported to the world," said Nematzadeh.
Taking the floor, ICI Chairman Erdal Bahçıvan said that ICI represented both conventional and prospective sectors with close to 20 thousand members operating in over 50 sectors. Bahçıvan stated that more than half of the ICI Assembly was present in the delegation, and that their visit to Iran felt like a vacation in a sister city. He remarked that their relations with Iran were never divided into pre-embargo and post-embargo, and potential of the two countries' private sectors would help develop both countries significantly.
Expressing his confidence that strategic partnerships both in domestic and third markets would generate solid financial results, Bahçıvan said that the $800-billion Turkish and $400-billion Iranian economies were poised to climb up in global rankings, despite the challenges of the embargo period.
Bahçıvan continued his speech as follows:
"I have no doubt that the current target of $30 billion would grow up to $100 billion as long as we can adopt the right perspective in the near future. Breaking down these figures will prove this argument right; in fact, there are sectors with great potential. We have an outstanding opportunity here, and there is no need to search for another model than the current one between Iran and Turkey, which we can promote to the world. I base this argument on important parameters: our 400 years of neighborly relations, and our demographically very similar populations. If we start off by mobilizing our well-educated young population towards qualified areas, we would significantly contribute to the prosperity of this region as well as for world peace."

Bahçıvan stressed their aspiration: To form a universal bond between Turkey and Iran, not one focused solely on commerce, but one with a holistic approach that also involved production, accumulation, and technology. Describing their duty as paving the way for development, Bahçıvan said that they were addressing issues related to banking, customs and transportation, which they were experiencing every day. Bahçıvan shared ICI's plans to open an office in Iran, which would not only benefit importers and exporters, but also business people from one country who want to invest in the other.
Taking the floor, ICI President of Assembly Zeynep Bodur Okyay also affirmed that Turkey and Iran are two countries capable of understanding each other. Reminding the strict embargo laid on Turkey during 1970s, Okyay said that this experience helped Turkey realize the importance of having a strong industry. She went on to say that an investable climate both in Turkey and Iran is key to encourage industrialist to invest without any reservations, and remarked on how advanced Iran's technology is in certain fields. Okyay also noted that Turkey became achieved a competitive competency during its EU integration process, which would serve as an important pool of experience for Iran.