Istanbul Consulate-General of Ukraine Bodnar Visits ICI President Erdal Bahçıvan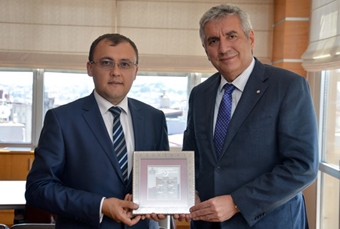 The Istanbul Consulate-General of Ukraine Vasyl Bodnar paid a visit to Istanbul Chamber of Industry (ICI) Board President Erdal Bahçıvan. ICI General Secretary Melek Us and the Ukraine Istanbul Consulate in charge of Economic Relations, Russian Deremedved, were also present at the meeting, at which opportunities for new business cooperation between the two geographically close countries were discussed.
ICI President Bahçıvan, stating that many Turkish industrial companies had investments in Ukraine, said that the Chamber was closely following the developments in that country. Bringing to mind the long-standing amicable relationship between the two countries, Bahçıvan remarked that efforts were underway to increase the mutually productive investment opportunities in the coming period.
An agreement was reached during the discussions to organize a "Ukraine Day" to contribute to sorting out the issues that companies in both countries were experiencing at this time and to seek a mutually fruitful investment environment. This event, which a significant representation of the Ukraine authorities is expected to attend, is planned for sometime in September.