Japanese Delegation Held Cooperation Talks at the Istanbul Chamber of Industry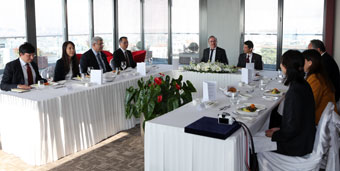 On January 14th, 2015, the Japanese delegation led by the Deputy Governor of Osaka, Japan, Mr.  Hiroshi Ueda was hosted at the headquarters of Istanbul Chamber of Industry by Sadık Ayhan Saruhan, the Board Member of ICI.
At the meeting, Japan and Turkey, as two countries who have completed 90 years of diplomatic relations, evaluated cooperation opportunities in the areas of trade and investments and pointed out the fact that business talks in these areas have already increased. 
Sadık Ayhan Saruhan started his speech by thanking for the gracious hospitality shown to him during his attendance in a meeting in Osaka last November and underlined that they are ready to support events aiming to strengthen the cooperation between the two countries, such as a Country Day which may simultaneously be organized with the visit of delegation of businessmen to the Chamber planned on February 10th, 2015. Saruhan, mentioning the partnerships between the two countries in trade, investment and construction fields, also emphasized that Turkey was ready for further collaboration in its particularly strong sectors such as textile, ready-to-wear, food, white goods by industry and automotive, as well as other sectors such as tourism.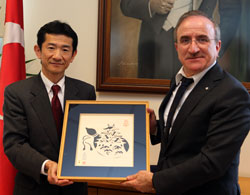 Then, the Deputy Governor, stated that Osaka is one of the most industrialized cities of Japan, and that many large industrial companies like Daikin, which enjoys close relations with Turkey, built their headquarters in Osaka. Deputy Governor drew attention to the fact that the bilateral meetings planned to be held during the Japanese delegation's visit to Istanbul on February 10th should be regarded as a huge opportunity. He also expressed his desire to host a Turkish delegation in Osaka as a step to further the cooperation between two regions.
The presentation of ICI talked about the positive developments and the successful performance of the Turkish economy as well as the manufacturing sector over the recent years. Furthermore, it also explained the investment environment in Turkey and the organization and the activities of Istanbul Chamber of Industry. Japanese delegation's presentation focused on the leading industries and companies of Osaka and the incentives offered. Then, both the Turkish and Japanese representatives proceeded to lunch.